Donemana win fifth straight North West Senior Cup helped by Andy McBrine's 86no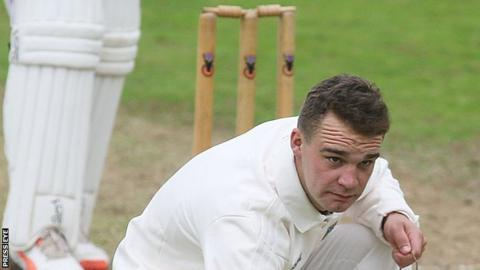 Donemana clinched their fifth successive North West Senior Cup as they earned a six-wicket victory over Coleraine at Strabane.
Ireland international Andy McBrine's unbeaten 86 saw Donemana reach their target of 157 in the 30th over.
McBrine rounded off Donemana's victory with his third six.
Earlier, Coleraine had produced 193-8 in the second innings after Donemana had forged a 37-run lead following their first innings of 235-9.
Coleraine's speed of scoring was also a problem in the first innings as they finished on 198-4 with Niall McDonnell top-scoring on 80 not out after facing 153 balls.
Andrew Riddles' unbeaten 76 from 79 deliveries which included two sixes and five boundaries helped Donemana post 235-9 in their first innings.
SATURDAY'S RESULTS
Bank of Ireland North West Senior Cup Final
Coleraine 198-4 N McDonnell 80 no, S Campbell 38 and 193-9 N McDonnell 62, S Campbell 33
Donemana 235-9 A Riddells 76 no and 157-4 (29.4 overs) A McBrine 86 no
Donemana won by six wickets
Ulster Bank Premier League
Waringstown v North Down
Waringstown 211-9 G Thompson 75, J Hall 39
North Down D/L target 193 from 40 overs - 142-3 after 32 overs - Rain stopped play
North Down won by seven runs (D/L)
Lisburn v Derriaghy
Lisburn 185A Berry 67, C Chetty 50
Derriaghy 155
Lisburn won by 30 runs
Carrickfergus v Instonians
Carrickfergus 248 for seven P Botha 74, M Gilmour 56
Instonians 186 S Bunting 40, R Eagleson 5-38
Carrickfergus won by 62 runs
Extra game for Sunday - 31 July
Long's SuperValu Premier League
Eglinton v Bready