Cricket team bowled out for zero in Kent indoor game
Last updated on .From the section Cricket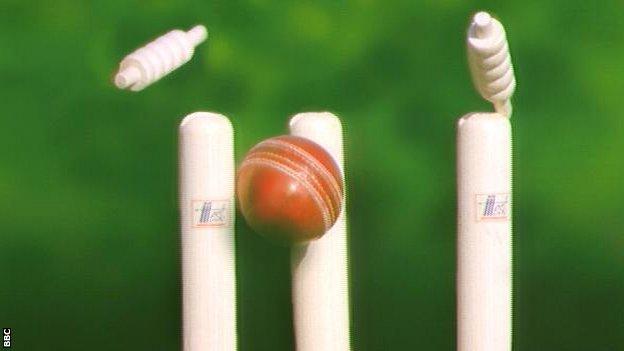 A cricket team was bowled out for 0 in just 20 balls in a county six-a-side indoor championships match.
No batsman from Bapchild Cricket Club was able to get off the mark against Christ Church University in Canterbury.
"We couldn't believe it, all they needed to do was hit a wall to get one run," Christ Church player Mike Rose told the Crawley Observer.
Somerset club Langport set the record for the lowest score when they were dismissed for zero in 1913.

Wirral CC were bowled out for three in a Cheshire League Division Three fixture in 2014 - though they had 11 players and were 0-8 at one stage.
And Kent village team Saltwood CC scored 216 before bowling Martin Walters out for zero in 8.2 overs during a match in 1964.
In first-class cricket, the lowest score ever made is six - by "The B's" against England at the old Lord's ground in 1810 - while New Zealand's 26 against England in 1955 remains the lowest total scored in a Test match.