Marlon Samuels given 12-month West Indies bowling ban
Last updated on .From the section Cricket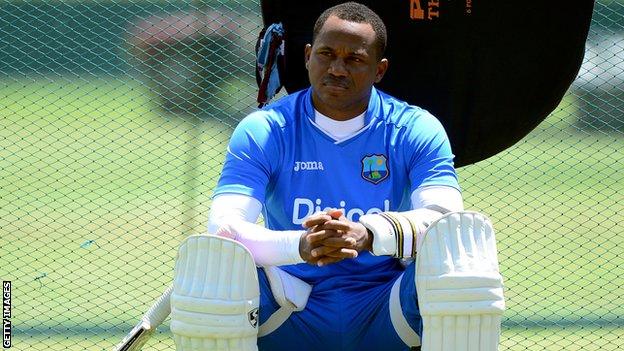 West Indies all-rounder Marlon Samuels has been banned from bowling in international cricket for 12 months because of an illegal action.
An independent assessment revealed his elbow extension exceeded the permitted 15 degrees while bowling.
He was handed a year-long ban because he had already been banned from bowling his faster deliveries in December 2013.
An International Cricket Council statement read: "As this report constitutes the player's second suspension within a two-year period, he is now automatically suspended from bowling in international cricket for a 12-month period.
"Samuels is entitled to appeal any procedural aspect of the independent assessment that has led to this automatic suspension. However, only after the expiry of this one-year period will he be entitled to approach the ICC for a re-assessment of his bowling action."
Samuels, who bats in the top order, has taken 145 wickets in 279 matches for his country across Test, one-day and Twenty20 formats, but may continue to play as a specialist batsman.
Off-spinners under ICC scrutiny

Marlon Samuels

West Indies

Reported in November 2013; cleared in December (but banned from bowling quicker deliveries); reported again in October 2015, banned for 12 months in December

Shane Shillingford

West Indies

Reported in November 2013; suspended in December; cleared to return in March 2014 (but banned from bowling doosra)

Sachithra Senanayake

Sri Lanka

Reported in June 2014; suspended in July; cleared to return in December

Kane Williamson

New Zealand

Reported in June 2014; suspended in July; cleared to return in December

Saeed Ajmal

Pakistan

Reported in August 2014; suspended in September; cleared to return in February 2015

Prosper Utseya

Zimbabwe

Reported in August 2014; suspended in October; cleared to bowl seam in December (but banned from bowling off-spin)

Sohag Gazi

Bangladesh

Reported in August 2014; suspended in October; cleared to return in February 2015

Malcolm Waller

Zimbabwe

Reported in November 2014; suspended in December; cleared to return in August 2015

Mohammad Hafeez

Pakistan

Reported in November 2014; suspended in December; cleared to return in April 2015; reported again in June; banned for 12 months in July

Bilal Asif

Pakistan

Reported, then cleared, in October 2015

Sunil Narine

West Indies

Reported, then suspended, in November 2015

Shikhar Dhawan

India

Reported in December 2015