Mark Vermeulen: Zimbabwe player banned for 'apes' remark
Last updated on .From the section Cricket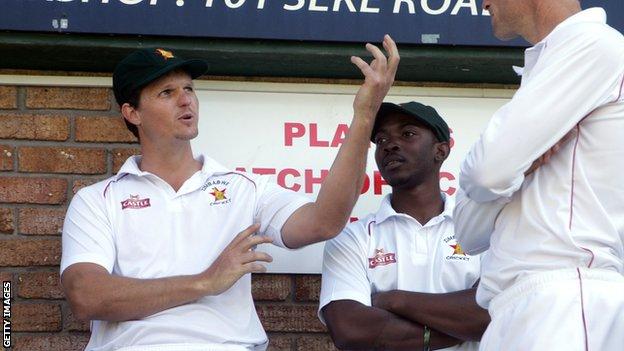 Former Zimbabwe Test batsman Mark Vermeulen has been banned from all cricket activities for referring to black people as "apes".
The 36-year-old, who played nine Tests and 43 one-day internationals, made his views in a Facebook post in July.
Vermeulen was responding to a complaint by Prosper Utseya, which alleged that there was racism in Zimbabwe cricket.
"Racism is abominable and there can be no defence for it," Cricket Zimbabwe said in a statement.
On Friday, a Zimbabwean newspaper published an apology from Vermeulen. In it, the former international said that he had made a personal apology to Utseya, and that it had been accepted.
"I know my comments were over the top and I apologise to all that I have offended. But as a cricketer, it's how our minds work," he said.
Zimbabwe Cricket said: "Mark Vermeulen has been banned from participating in all cricket activities, after he owned up to repulsive remarks that reflect racism, prejudice and plain ignorance.
"We find Vermeulen's Facebook comment distasteful and unacceptable, particularly for a senior sportsman who should have learned from playing in Zimbabwe and abroad that there is no place for racism in sport."