Heather Knight column: 'Every game is a final for us now'
Last updated on .From the section Women's Cricket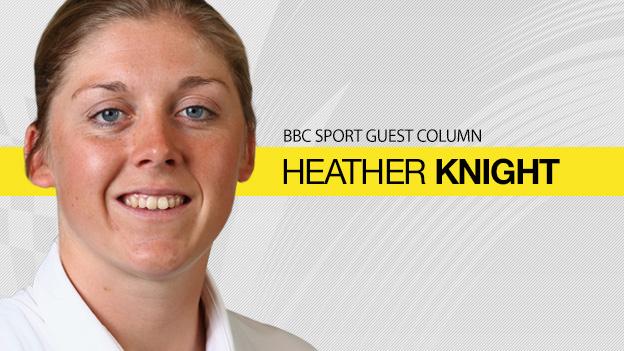 England vice-captain Heather Knight is writing a series of columns during this summer's Women's Ashes. Here, she reflects on a Test defeat and discusses the multi-innings format in the women's game. You can listen to commentary on every ball of the series on the BBC.
Credit to Australia, who outplayed us in the one-off Women's Ashes Test, and particularly Jess Jonassen who had a brilliant match on debut as they won by 161 runs to take an 8-2 lead on points in the multi-format series.
As a group of players we have to front up and take full responsibility. Simply put, we haven't played well enough, especially with the bat.
But there's a hell of a lot of fight in this team. We may not have shown it in the last few games with the bat, and as a batting unit we're obviously massively disappointed that we haven't performed.
We are the only ones that can turn it around, however, and we are putting absolutely everything into doing so in the three Twenty20 internationals that start in Chelmsford on 26 August.
Women's Ashes 2015

Date

Game

Venue

Winner

Pts available

21 Jul

1st ODI

Taunton

Eng (4 wkts)

2 (Eng 2-0)

23 Jul

2nd ODI

Bristol

Aus (63 runs)

2 (2-2)

26 Jul

3rd ODI

Worcester

Aus (89 runs)

2 (Aus 4-2)

11-14 Aug

Test

Canterbury

Aus (161 runs)

4 (Aus 8-2)

26 Aug

1st T20

Chelmsford

-

2

28 Aug

2nd T20

Hove

-

2

31 Aug

3rd T20

Cardiff

-

2
As we need to win all three matches to level the series and retain the Women's Ashes, every game is a final for us now. The series is still alive, and all we are thinking about now is looking forward to those T20s - one match at a time.
Despite the result in Canterbury, it was still special to don the whites for Test cricket, something that we don't do very often. It was great to see Georgia Elwiss win her first Test cap and to see Katherine Brunt back to her absolute best with the ball.
Brunty is someone who wears her heart on her sleeve every single time she goes out to play and to watch her in full flow from first slip, particularly when she bowls like she did in that spell on the third morning, is a pleasure. 'The Hoof', Anya Shrubsole, was also exceptional and I'm backing both of them to continue their form in the T20s.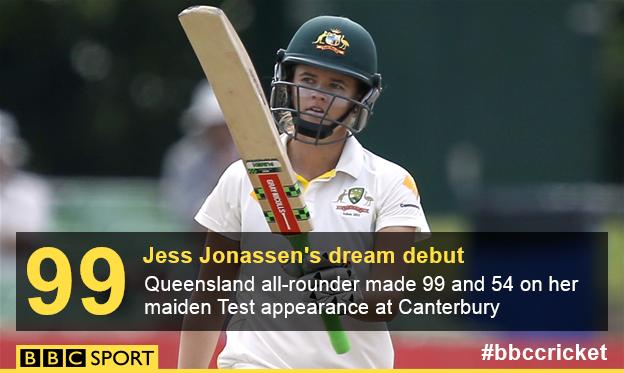 Options for change?
During the Test, a few things were mooted in the media about whether the women's game can be improved and made faster by, for example, playing off 20 yards (rather than 22) or using a smaller, lighter ball (the ball we use is 5oz as opposed to a men's 5.5oz). Personally I'm not a massive fan of those suggestions.
As any bowler will know, rhythm is pretty key and changing from bowling a length that you have bowled and practised day in, day out throughout your whole career I can imagine would be pretty difficult. Equally, as a batter I'm not that keen on the potential of facing too many beamers!
Yes, the Test match probably wasn't the best spectacle for the women's game, but to see an improvement there, surely the answer is to play more multi-innings cricket rather than suddenly change the complete fundamentals of the game? Just a thought.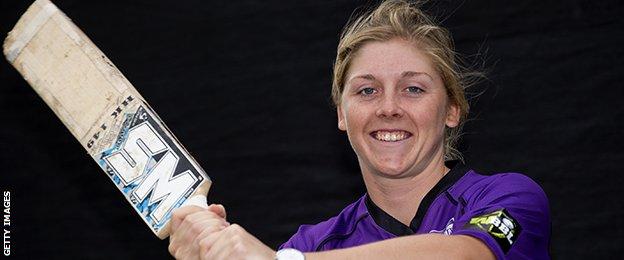 Heading back to Hobart
Although it's not really on my mind at the moment, it was announced last week that I'll be going back to Tasmania to play for the Hobart Hurricanes this winter in the inaugural Women's Big Bash League (WBBL). It's something, that once the English summer is over, I'm massively excited about.
I had a great few months in Australia last winter and felt like it benefited my game massively. I'm looking forward to rejoining the Tasmanian girls and building on the T20 success we had last year in the new-look WBBL.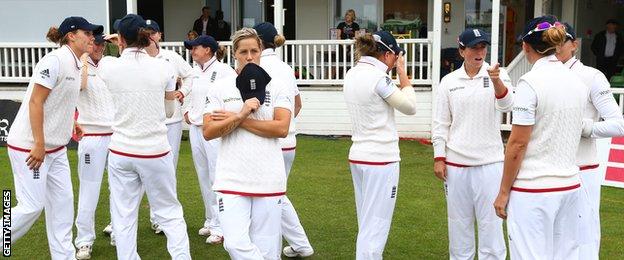 Time to turn the series around
We've had a few days at home to recharge the batteries before getting back together, ready for the change to T20 cricket. We've got two warm-up matches against a Northants Academy boys' XI and a bit of time in the nets to make sure we're as prepared as we possibly can be. It's important that we go out fighting and express ourselves in the shortest format.
The crowds watching us play this summer have been exceptional - it has often felt like we've had a 12th player out there with us. Now more than ever, we need the public to get behind us.
We have three matches left in this series and we are still in with a chance of turning things around, so come along and support us at Chelmsford, Hove or Cardiff.