Ashes 2015: Families did not hinder Australia - Darren Lehmann
Last updated on .From the section Cricket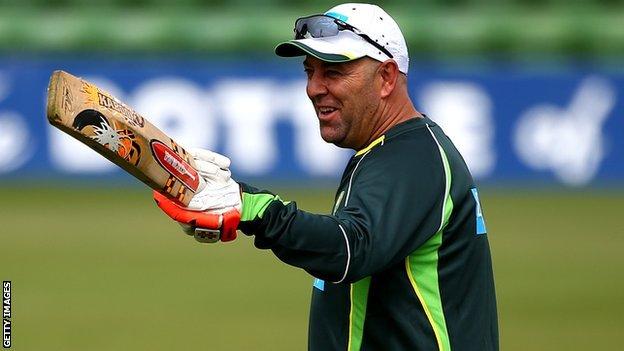 Australia coach Darren Lehmann has said he will not stop players' families travelling with the squad.
The former Test batsman claims some of his players had not been home for more than three or four days since December.
"I can't think of any other sport in which the players are away for such long stretches of time," he said.
Writing in a column for Cricket Australia, Lehmann added: "There is no way, as coach of the Australian cricket team, that I am going to oversee a set-up that doesn't welcome wives, girlfriends, children and other family members when our players and staff are spending that length of time travelling.
"Their presence also helps to provide a bit of normality during a long stint of travel, and I find it strange that this has only surfaced as an issue now when it's been like this for the two years that I've been coach."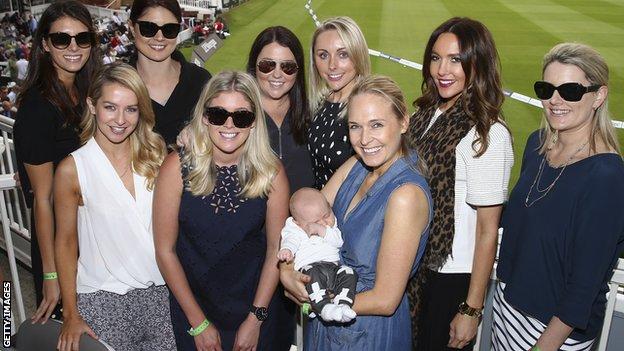 England regained the Ashes at Trent Bridge last weekend, moving 3-1 up in the series with one match remaining.
That defeat, in which Australia were bowled out for 60 in their first innings, prompted former Australian wicketkeeper Ian Healy to question whether wives should be allowed on tour.
Speaking to the BBC's Test Match Special on Wednesday, Healy said his comments had been taken out of context, and explained: "If you're not executing everything the same when your wife is there, as to when she's not there, then make sure you change it.
"If the boys go for drinks or for dinner when the wives aren't there, then that should continue [when they are]. If it doesn't, then that is a distraction.
"The wives and the players have to continually ensure they are not distracting the performance. But I'm sure this team are on top of that."
Meanwhile, Rod Marsh, chairman of Australia's selection panel, described the tourists' batting performances in first innings throughout the Ashes as "deplorable".
Criticising Australia's middle order in particular, Marsh told cricket.com.au: "How do you see some of the best batsmen in the world make no runs in the first innings of four Test matches basically? It just staggered me."