Ashes 2015: England 'stumbled' into attacking style - Paul Farbrace
Last updated on .From the section Cricket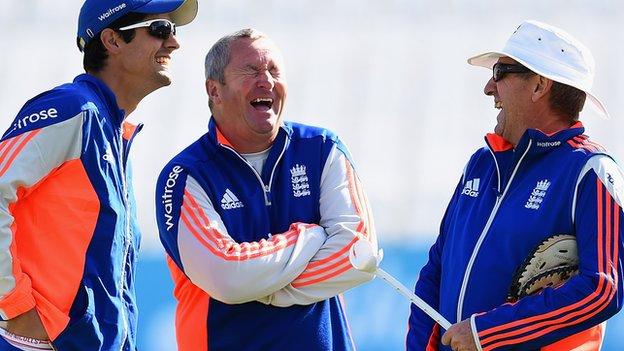 England's Ashes-winning cricketers "stumbled across" their aggressive style of play, says Paul Farbrace.
Alastair Cook's side have scored 3.98 runs per over in the current series against Australia this summer, compared to 3.48 at home to India last year.
"It just happened by chance, at 30-4 on that first day at Lord's," said assistant coach Farbrace of the first Test of the summer against New Zealand.
"I don't think we set out to be an ultra-attacking team."
Farbrace, who was in temporary charge of the team for that New Zealand series before the arrival of new head coach Trevor Bayliss in time for the Ashes, added: "Joe Root played one way, got his singles and scored boundaries, and Ben Stokes came in and whacked it.
"All of a sudden the headlines were 'this new England way of playing' - but I think we stumbled across it as opposed to set out to play in that way.
"Either way, it is working."
England have won the Ashes series with one Test to spare, beating Australia inside three days in both of the last two matches.
Only against Bangladesh in 2005 and West Indies in 2007 have they scored their runs faster in a Test series.
It is a big turnaround from earlier in the year, when the team's tactics were questioned and labelled as too defensive when they were eliminated from the World Cup at the group stage.
"It [being aggressive] suits us," said Farbrace. "You look at the way the middle order play and they are all quite attacking batsmen.
"Trevor keeps telling them to have a positive mindset, because then you are in the best position to play whatever ball is delivered to you - in the best position to leave, defend or hit it."
England's highest 2015 Ashes strike-rates (runs per 100 balls)
Moeen Ali
- 78.08 (career: 48.57)
Joe Root
- 71.79 (52.65)
Jonny Bairstow
- 67.52 (50.03)
'I was hot under the collar'
Despite England's exceptional form with bat and ball against the tourists this summer, Farbrace says there have been moments where Cook's men could have done better.
And the coaching staff have not been afraid to highlight such deficiencies, with bigger tests to come against Pakistan and South Africa this winter.
"On Friday afternoon we were disappointed with how we bowled. We dropped two catches and got two wickets with no-balls," explained Farbrace.
"I don't mind admitting I was getting a bit hot under the collar up there - because I felt we were allowing them back into the game.
"The next Test match series in the UAE will be as tough, if not tougher, than this series - because the conditions are very different, and Pakistan are a fantastic side in those conditions.
"We have got to play exceptionally well in that series. We will be a little bit up-and-down, hit-and-miss and inconsistent. We have to accept that - which is hard as coaches."
Australia face Northants in a three-day tour match starting on Friday, before the final Test begins at The Oval on 20 August.