Sachin Tendulkar 'stuck' in English village and asks for a lift
Last updated on .From the section Cricket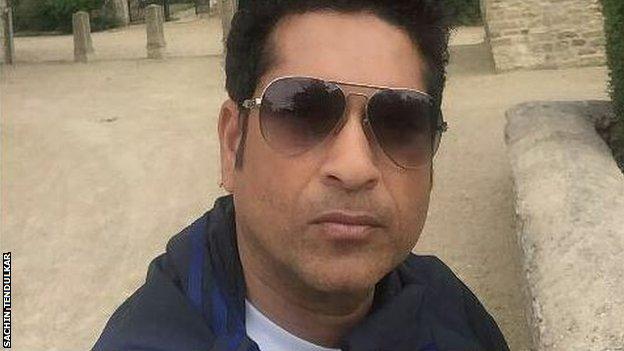 "In Great Haseley, Oxfordshire. Missed the last bus, can anyone give me a lift??"
Not a cry for parental help from an absent-minded teenager, but a plea from one of the world's greatest batsmen, Sachin Tendulkar.
The former India captain, 42, was one of 15,000 inside Wimbledon Centre Court to watch men's semi-finals on Friday.
But a day later, in a village of only 511 people, he found himself stranded - or so we thought.
Tendulkar's tweet about his whereabouts drew a huge response from his seven million Twitter followers but it seems he was only joking about being stranded.
On Monday, he tweeted "some seem to have missed the joke", so though we thought reading a bus timetable was not one of the Little Master's strengths, instead it is internet-friendly humour he could perhaps brush up on.
We here at BBC Sport did not see the joke either, though we stopped short of sending a search party.
The most important thing perhaps is that Tendulkar "Enjoyed Oxfordshire," as he later wrote.
Tendulkar, who retired in 2013, played in 663 Test and one-day matches for India. He recorded 100 centuries, scored 34,347 runs in all forms of the game and holds the record for the most Test centuries with 51.
But you have been warned, the next time he needs a lift or claims to be lost, don't fall for the 'joke.'