Minor Counties: Devon thrashed by Herefordshire inside two days
Last updated on .From the section Cricket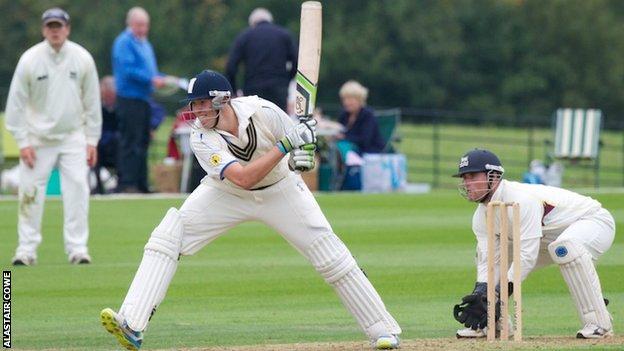 Devon were on the receiving end of an eight-wicket thrashing by Herefordshire at Sidmouth in the third game of their Minor Counties Championship campaign.
It was the first time in 15 seasons of the competition that they had been beaten inside two days.
"Right now we aren't ready to go toe-to-toe with some of the sides we meet, but we will be," director of cricket Keith Donohue told their website.
"Sometimes you have to take it on the chin and this is one of them."
Devon were bowled out for 104 before lunch on day one and trailed by 236 runs at the halfway stage.
Matt Thompson, Matt Golding and Ryan Stevenson made half-centuries as the hosts posted 255 all out in their second innings, but it left Herefordshire needing only 20 to win and they knocked off the runs for the loss of two wickets.
"There may be one or two changes for the next game against Berkshire, but that is all it might be and won't necessarily be a consequence of what happened here," added Donohue.
"We want players to know when they come into the team that it's not just for a game or two then they're never seen again."
The result left Devon without a victory in the Western Division, following a draw with Wales and defeat by rivals Cornwall.