All no balls concede free hit in ICC ODI & Twenty20 rule changes
Last updated on .From the section Cricket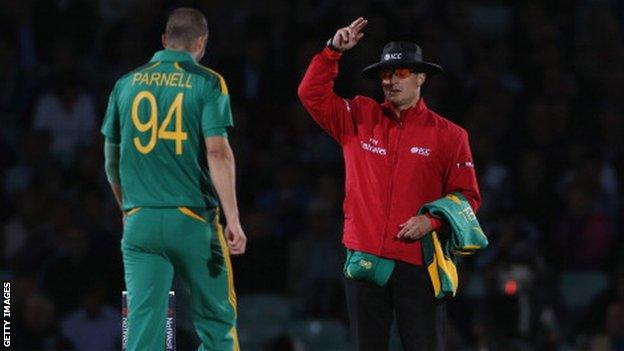 All no balls will result in a free hit under changes to one-day international and Twenty20 playing conditions.
At present only bowlers over-stepping the crease concede a free hit.
Under ICC changes from 5 July, no batting powerplays will be permitted between the 15th and 40th overs in ODIs and there will be no compulsory close catchers from overs one to 10.
Five rather than four fielders will be allowed outside the 30-yard circle between the 41st and 50th overs.
ICC chief executive David Richardson said: "There was no need to make any radical changes to what has proved to be a vibrant and popular format but we wanted to take this opportunity to make the format simpler and easier to follow for the public as well as maintaining a balance between bat and ball."
Meanwhile, the ICC has suspended the United States Cricket Association (USACA) with immediate effect.
An ICC review group report found "significant concerns about the governance, finance, reputation and cricketing activities of USACA".
USACA will now not receive ICC funding but the USA team will be able to play in next month's ICC World Twenty20 qualifiers in Ireland and Scotland.
Fourteen teams will compete in the round-robin qualifying event, with six going through to the first round of the 2016 ICC World Twenty20, where they will meet the ninth- and 10th-ranked full members.
ICC chairman Narayanaswami Srinivasan said in a statement: "The ICC board had put USACA on notice in its January meeting this year and had hoped that it would show some urgency to address and improve in the areas that were identified as weaknesses.
"Unfortunately, the response to date has been inadequate and it has proved necessary for the ICC board to take further action."