England v New Zealand: Problems England must solve for Ashes

By Jonathan Agnew
BBC cricket correspondent
Last updated on .From the section Cricket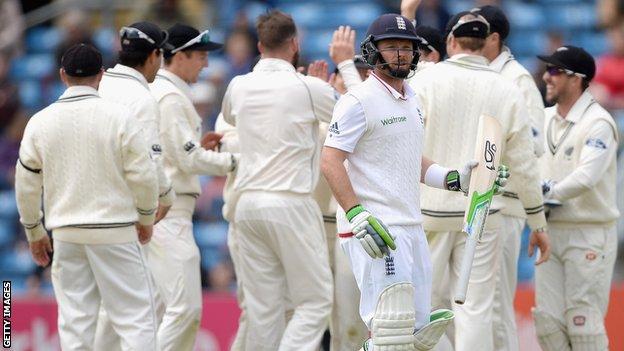 If you follow England at the moment, then you are used to ups and downs.
We have been talking for some time about how this developing team will have peaks and troughs, so it is the job of incoming coach Trevor Bayliss - whose start date has not yet been confirmed - to get them playing consistent cricket.
The problem England have got with finding consistency is that they repeatedly speak of playing in a positive manner. Positivity and consistency are tough to marry together.
How's stat?!
New Zealand's victory was their first in 12 Tests against England but their biggest in terms of runs, surpassing their 189-run win at Hamilton in 2008
The fourth evening of the second Test was a good example, when Joe Root proclaimed that England would be looking to chase 455 on the final day. I would have much rather heard about their commitment to saving the game.
As it turned out, they subsided in rather a disappointing manner. New Zealand's Trent Boult is a highly skilled swing bowler, but England gave three wickets to the off-spin of Mark Craig, who bowled poorly.
England's showing should take nothing away from the achievement of the Black Caps, who thoroughly deserved to draw the series.
They play cricket in the right way - a positive, refreshing manner. It is good to see that attitude rewarded.
As for England, they end the series in better shape than they began, but there are immediate areas for Bayliss to work on.
Bell must rediscover rhythm
Ian Bell is a stylish batsman who never looks in poor touch, but a slump of only 55 runs in eight innings tells us there is a problem. With Bell, that problem is more about mentality and confidence.
Though he is clearly struggling, Bell will start the Ashes. Alongside Alastair Cook, he provides the experienced backbone to the England batting line-up and he had an outstanding series when Australia last visited in 2013.
However, between now and 8 July, he must go back to Warwickshire and score some runs, to rediscover the rhythm of batting.
Ex-England captain Michael Vaughan on Test Match Special
"Ian Bell has got to do what Alastair Cook has done. He has a lack of confidence for a really high-class player. He's got to get his mind back and arrive at Cardiff calm, knowing that he's done everything he possibly can. He's falling for the opposition trap at the moment."
The problem that England have with Bell being out of form is that the next man in line is likely to be James Taylor, who played the last of his two Test matches in 2012. The callow nature of the back-up batsmen means England urgently need the 33-year-old to get back to his best.
The other subplot involves, as ever, Kevin Pietersen. When Andrew Strauss told Pietersen that he would not be considered for selection, he did so with the confidence that England's middle order looked settled.
With Bell's predicament and Gary Ballance making only 36 runs in his last four innings that middle-order certainty is no longer there.
Imagine the noise if Bell or Ballance continue to struggle, England go 2-0 down in the Ashes and Pietersen returns from the Caribbean Premier League to score runs for Surrey.
Catches win matches
When Bell was scoring three hundreds in the 2013 Ashes, he was also catching everything that went to him.
Now, a spill over from his lack of confidence with the bat is that he is missing chances in the slips.
If you're a batsman feeling anxious, you might clutch at the ball in the field or, even worse, be so low on confidence that you do not go for chances, as was the case on the fourth day.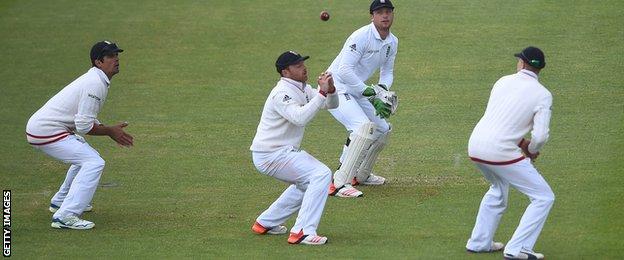 Bell is not a great slip fieldsman, but he is a wonderful short leg. He has spent years practising to field in what is a specialist position, yet has seemingly been moved from what is a pretty horrible place to field because there are younger players in the team.
I put the point to former coach Andy Flower on the tour of New Zealand in 2013, when Root replaced Bell at short leg. Soon after, Bell was back under the helmet.
Now, Adam Lyth, an excellent slip fielder, is the latest to find himself at short leg. England must get the right fielders in the right positions, because Australia will heavily punish dropped catches.
Attack should stick to Plan A
There are plenty of things going right for England's pace attack, not least because James Anderson is so potent when the ball swings and Stuart Broad continues to improve after knee surgery.
However, it is concerning how quickly they wilt when they come under attack, which is what Australia are bound to do. It could still be a hangover from the World Cup, where they took a battering.
Heads drop quickly and they revert to a poor tactic of bowling bouncers with men on the boundary, particularly to tailenders.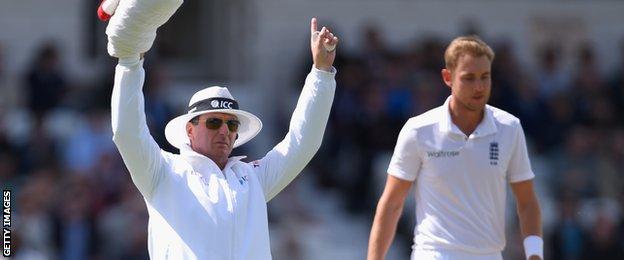 Lower-order batsmen are much better than in the past, they are not easily intimated by short bowling. When the plan is so telegraphed, they are ready to hit the ball out of the park, which has happened so often in this series.
This is a tactical issue for Bayliss and captain Cook - who must take more control of his bowlers - to address.
Tailenders are at the bottom of the order because they are not as good as the men that bat ahead of them. Why bowl one way to get the best players out, then a totally different way to get the lesser batsmen out?
Plan A should always be Plan A and it would need a very good reason to change it.
Moeen must bowl, bowl, bowl
I'm sure that Moeen Ali will begin the Ashes as England's first-choice spinner, but he is giving England a problem because he is not providing control.
It started in the final Test against West Indies in Barbados and Cook's faith in the Worcestershire man seems to have been affected since then.

Some will call for Yorkshire leg-spinner Adil Rashid to be included and he might be able to take wickets, but would he provide the discipline that is needed?
There is an argument that the likes of Kent's James Tredwell or Surrey's Gareth Batty might be more suited to doing a holding role in English conditions. However, whoever is in the England side will be targeted by the Australians.
If that is set to be Moeen, then he needs to get back to Worcestershire and bowl, bowl, bowl. It is very difficult for him to learn his craft in the Test arena and is surely one of the reasons why he has been rested from the one-day squad.
England's plus points
Though I have highlighted areas that England need to address, they did answer some questions in this series.
They were in need of both an opening batsman and a back-up seamer to Broad and Anderson and I like what I have seen from Adam Lyth and Mark Wood.
Lyth's century on his home ground at Headingley cements his place at the top of the order for the start of the Ashes and he is a man who looks at home in Test cricket.
Wood reminds me of when Simon Jones first came into the England team, with a shortish run-up exploding into an action that generates good pace. He makes things happen.

The all-round talents of Ben Stokes can win matches for England if he used in the right way. His pace bowling should focus on making an impact and his batting should be allowed to fly.
He will succeed at other times and fail at others, but he proved at Lord's that his cricket can be exhilarating.
But the biggest plus for England as they head into what will be a very tough Ashes battle is the form of Cook.
He made a century in West Indies to end a two-year absence of a three-figure score, but it was nothing as good as the form he showed against the Black Caps to average in excess of 75.
Scoring runs takes the pressure off his captaincy, even allowing for those who will always criticise because of his conservative style of leadership.
On the whole, England are a better team at the end of this series because of how Cook is playing. The rest they have to work out quickly.