England v New Zealand: Sloppiness costs England - Agnew

By Jonathan Agnew
BBC cricket correspondent
Last updated on .From the section Cricket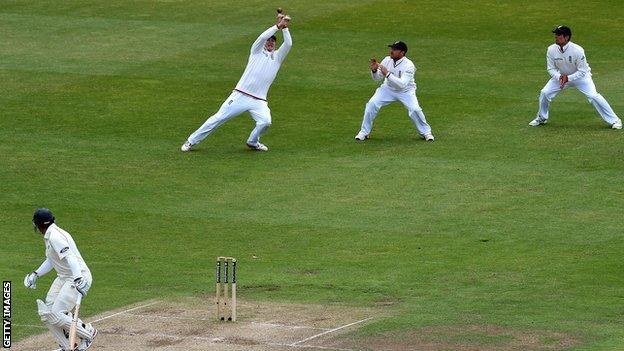 The third day of the second Test at Headingley belonged to New Zealand and it is now their match to win.
In reaching 338-6, a lead of 338 over England, they again batted with incredible positivity, led by the outstanding BJ Watling, who continued his fine form with an unbeaten century.
The Black Caps, though, were aided by sloppiness from the home team, errors that will be heavily punished if they continue into the Ashes series against Australia.
Firstly, just as on the second evening, their middle-order struggled against the second new ball.
The three wickets that fell on the third morning meant that, in total, England slipped from 238-2 to 267-8, which is pretty dire.
Highest successful England fourth-innings run chases
332-7 v Australia, Melbourne, 1928-29
315-4 v Australia, Headingley, 2001
307-6 v New Zealand, Christchurch, 1997
298-4 v Australia, Melbourne, 1895
294-4 v New Zealand, Old Trafford, 2008
The day-three struggle started when Ian Bell played a poor shot to a Tim Southee out-swinger, to be caught at second slip.
Bell is in a bad spell of form at the moment, having managed only 54 runs in seven innings since he made a century in the first Test against West Indies.
If England need Bell, who was man of the series the last time they won the Ashes in 2013, to return to his best, then they also need to learn how to prevent wickets falling in clusters.
They have a long batting line-up, which looks great when they all click, but too many mini-collapses are happening at the moment.
As I have said before, England's relative youth and inexperience will make them inconsistent. However, this developing batting unit has to understand that when wickets begin to fall, at least one of them has to take responsibility.
Ex-England batsman Geoffrey Boycott on Test Match Special
"We want a result, whoever wins. If it's going to be England they're going to have to play out of their skins - but records are there to be broken."
That did not happen on either the second evening or third morning, which meant England squandered the advantage of being 177-0 and now find themselves second favourites to win this match.
Still, England were dug out of a hole by their last two wickets, with the hitting of Stuart Broad getting them to parity with the tourists.
And they still could have found themselves in a strong position had they held their catches.
Instead, three went down, another mistake we are seeing all too often from Alastair Cook's side.
Their catching was made to look all the poorer by a New Zealand team that swallowed everything that came to them, particularly some classic snaffles in the slips.
England are grabbing at the ball, which betrays a lack confidence and an admittance that they know it is a problem.
England bowling coach Ottis Gibson
"There is a little bit in the pitch when you bowl into length. But we were guilty of overdoing it. We tried too hard to get wickets; we haven't been patient enough. We know we can bowl a lot better than that."
The huge issue with putting chances down is that instead of creating 10 opportunities to take wickets, you have to make 14 or 15, in which time the opposition have punished you. Australia will do just that.
However, the biggest area of concern remains the bowlers' inability to dry up the runs being conceded.
England's seamers actually had a better day, not resorting to the silly short bowling they favoured in the first innings, but Cook is struggling to rely on the off-spin of Moeen Ali to tie up an end.
Test cricket is a harsh game, the opposition will try to exploit every weakness. Whoever England's spinner is during the Ashes, and it will probably be Moeen, then he should expect to be targeted.
To combat that, he must find some consistency. At the moment, he looks to be having real trouble bowling six balls an over in the same place.
England's deficiencies should take nothing away from an excellent day from New Zealand, who continue to win friends with their attractive style of cricket.
Today, they pitched it just right - positive, but not reckless. Captain Brendon McCullum was the best example, curbing his ultra-aggressive ways to score 55 from 98 balls.
Watling remains at the crease, representing England's biggest obstacle of taking the last four wickets they need on the fourth day.

They have to wrap the innings up as quickly as they can, then set about completing their highest ever chase to win a Test.
It is not impossible, especially because there is so much time left in the game. They will need some luck against the new ball, will have to ensure that as few of them as possible throw their wickets away and make it hard for off-spinner Mark Craig to settle.
Craig makes it trickier for England because of the seven left-handers in their line-up. If they are able to keep his impact to a minimum, it will mean more hard work for the likes of Southee and Trent Boult.
If New Zealand do win this match, no-one will begrudge them a share of the series, because they are a team that are very easy to like.
They respect the game and their opponents and simply seem to enjoy playing. What a shame they are only playing two Tests.