Yasir Arafat: England's T20 Blast can learn from Australian success
Last updated on .From the section Cricket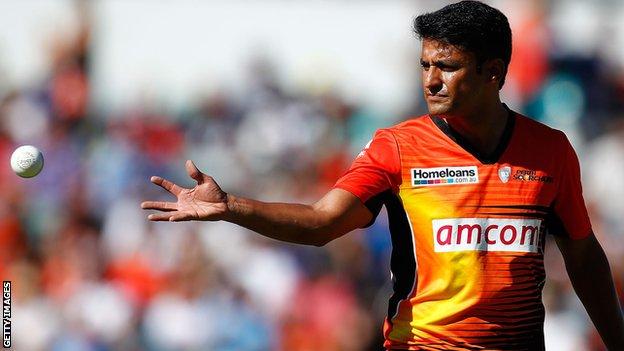 England's T20 Blast competition can emulate the success of Australia's Big Bash by reducing the number of teams involved, says Hampshire and Pakistan all-rounder Yasir Arafat.
All 18 county sides play in the T20 Blast, while just eight teams take part in Australia's 20-over version.
"I think the Big Bash is exceptional. They've fewer teams but televise every game," Arafat told BBC Radio Solent.
"Everybody praises the competition. They regularly get crowds of up to 20,000 and if you play in front of that big a crowd it's a big learning experience.
"If we could have that kind of atmosphere here and televise it, there would not be much difference between domestic and international T20s.
"If you play under that much pressure in front of the cameras or a big crowd, it helps the players to grow."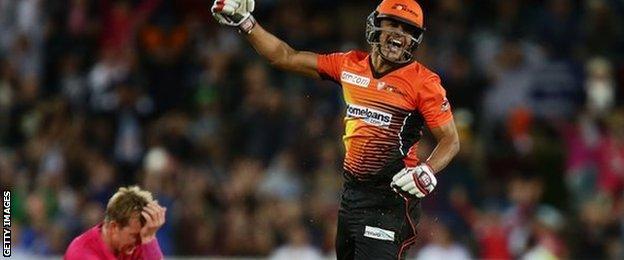 Former Kent, Sussex, Somerset, Surrey and Lancashire fast bowler Arafat is set to feature in his 200th T20 game when Hampshire go to Glamorgan in the T20 Blast.
Only a small number of players, including Sri Lanka's Lasith Malinga, former England batsman Owais Shah and West Indies all-rounder Kieron Pollard have reached the milestone in the format, which was introduced by the ECB in 2003.
Arafat has taken 258 T20 wickets, second only to all-time leading wicket taker Malinga, who has claimed 289 dismissals.
"In T20 cricket, you've got permission to express yourself," Arafat said. "Whether you're batting or bowling, you've got to express yourself with a clear mind and that's what I'm doing at the moment.
"If you want to be successful in this format, you need to have a good slow ball, slow bouncer, yorker and bouncer as well, and then you're effective.
"Otherwise it's hard to play that many games in leagues across the world."
Arafat has played in seven T20 finals for six different teams including the World Cup final in 2007, which Pakistan lost to India.
Hampshire have had a mixed start to this season's T20 Blast, winning one and losing the other of their opening games.
"If we play to our potential, we can work wonders and win the trophy for Hampshire," Arafat said.