Trevor Bayliss: An unexpected but exciting choice as England coach

By Jonathan Agnew
BBC cricket correspondent
Last updated on .From the section Cricket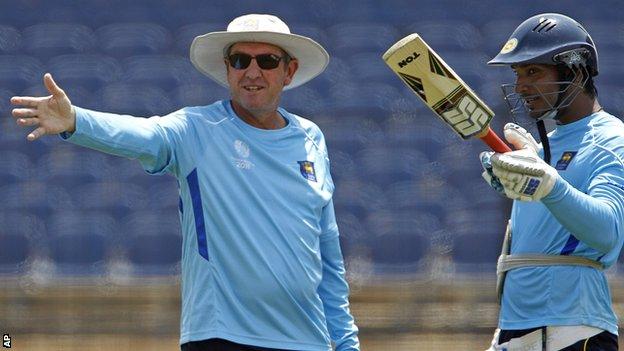 There is an element of surprise about the decision to appoint Trevor Bayliss as the new England head coach.
When asked, Andrew Strauss. the England and Wales Cricket Board's (ECB) new director of cricket, admitted Gillespie was a candidate, while the Yorkshire coach himself confirmed that talks had taken place.
But Strauss has not followed the crowd and has chosen who he thinks to be the right man for the job, one who was actually identified by headhunters a year ago, only for the ECB to choose Peter Moores because they wanted an Englishman.
We may never know how successful Gillespie could have been. He has done a very good job at Yorkshire with a very talented group of players and is clearly very popular.
However, the role at Headingley is only his second job after some previous work in Zimbabwe.
It would have been a big leap for him to take the England position now, especially taking his life on the road when he has a young family at home.
Gillespie is only 40, so time is on his side. He may get another chance in the future.
Bayliss, who has had two spells as coach of New South Wales in Australia, is someone who has flown under the radar of many cricket fans in England.
Yet the more you talk to people about him and the more you investigate his pedigree, the more excited you become about his appointment.
I spoke to Shane Warne about Bayliss, with the legendary Australian leg-spinner very upbeat about England's choice. There doesn't come much higher praise than that.
Bayliss, a former batsman who never played international cricket, seems to be an old-fashioned coach.
You are unlikely to find him shouting or being demonstrative, rather facilitating players to perform at their best.
What really strikes me is his pedigree in limited-overs cricket, an area of the game where England are so far behind the rest of the world that they need to start again.
Bayliss took Sri Lanka to the World Cup final in 2011 and has won the Indian Premier League with Kolkata Knight Riders and the Big Bash League with Sydney Sixers.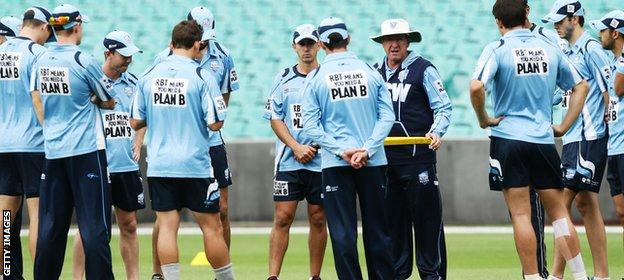 After such a disastrous World Cup, England were clearly looking for someone with plenty of one-day experience and know-how.
Bayliss, who will take over in June ahead of the Ashes series, certainly fits the bill and is likely to already have an eye on next year's World Twenty20 in India.
That is not to say that his immediate focus will not be on Test cricket, with a huge Ashes summer followed by difficult trips to play Pakistan and South Africa.
It is the challenging nature of that schedule that saw me refer to the England job as a "hospital pass" during the recruitment process.
Still, England have a talented, developing side that has won five of their last seven Tests.
We know they can be inconsistent, but we also know they are capable of playing some thrilling stuff, just as they did in the first Test victory over New Zealand at Lord's.
Yes, the Ashes will be difficult, but anyone who plays Australia at the moment is in for a tough time.
It could also be that Bayliss may have to deal with a change of captain relatively soon into his tenure, with some suggesting that Alastair Cook may not be skipper after the Ashes series.
That remains to be seen and, in an ideal world, Cook would at least get England through the winter, not least because it could well be too soon to burden the chirpy Joe Root with such a big job.
Trevor Bayliss's coaching honours
Sri Lanka:
World Cup finalists (2011), World Twenty20 finalists (2009)
New South Wales
(two spells): Sheffield Shield winners (2005, 2014)
Kolkata Knight Riders:
Indian Premier League winners (2012, 2014)
Sydney Sixers:
Big Bash League winners (2012), Champions League T20 winners (2012)
Bayliss will have a trusted assistant in Paul Farbrace, the assistant coach put in charge after Moores was sacked.
Farbrace worked under Bayliss for Sri Lanka - they were both on the team bus that was attacked by gunmen in Pakistan in 2009. There is a good relationship between the two, who will work together again with England.
I'm sure that much will be made about an Australian taking charge of England, particularly in such a summer, but I have no qualms about the nationality of the coach, especially when you consider that the hugely successful pair of Duncan Fletcher and Andy Flower both come from Zimbabwe.
These guys are professional, they do their job to the best of their ability, not least because their reputation is on the line.
Imagine what it would do for his standing back home if Bayliss were to guide England to an Ashes win.
If he doesn't, then he must be supported. The same goes for those series against Pakistan and South Africa.
Those with unrealistic expectations may not give Bayliss much of a honeymoon. The realists amongst us will grant the patience the job requires.
Jonathan Agnew was speaking to BBC Sport's Stephan Shemilt.