'Fantastic' England repay goodwill of their 'tremendous' fans

By Jonathan Agnew
BBC cricket correspondent
Last updated on .From the section Cricket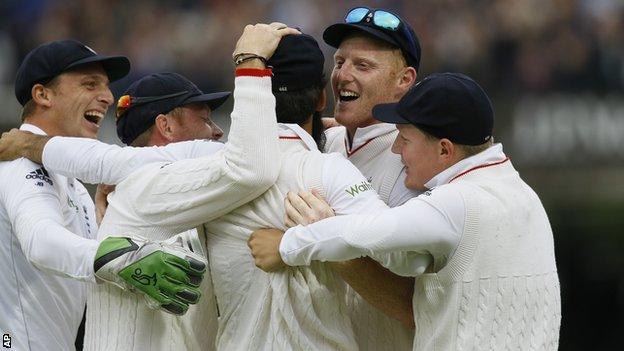 I'm not sure if there was ever a great deal of ill-feeling towards the England cricket team, in fact there was goodwill.
However, you cannot deny the disappointment at some of their results since the Ashes whitewash 18 months ago.
Perhaps if the noise around the team is removed, a deep breath is taken and we let them play, we will see more performances like in the 124-run win against New Zealand at Lord's.
It was a fantastic effort, one that Alastair Cook's team should take a lot from. Not only because they have beaten a very good side, who are two places above them in the world rankings, but also for the manner in which they did it.
They were 30-4 on the first day and turned it around. Again, on the fourth morning, they were 60 runs behind with only seven second-innings wickets in hand. New Zealand could have had the game wrapped up that evening.
Cook said fighting back to claim victory was a team effort and in lots of ways he is right. The captain made one of his finest Test hundreds, Joe Root contributed scores of 98 and 84, Stuart Broad is moving back to his best and Mark Wood impressed on debut.
However, when we reflect on this Test match, we will think of the exploits of Ben Stokes. I've already heaped praise on his batting, especially his 85-ball hundred that changed the game on Sunday, and on Monday he made a huge impact with the ball.
Kane Williamson, who made a hundred in the first innings, was well set when Stokes got to work.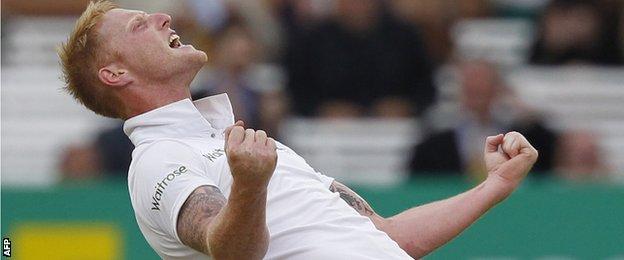 The Durham all-rounder softened the New Zealand batsman up with one that flew from nowhere. It passed the edge, but Williamson was unsettled, not getting in line and missing the next ball.
The next delivery was fended to gully. Gone.
Then Stokes produced a perfect inswinger to Brendon McCullum, who we know likes to stay leg side of the ball. It hit something on the way through, but that doesn't matter. When the ball hit the stumps, Lord's went mad.
The noise rushed through the open window of the Test Match Special box, almost knocking Phil Tufnell and me off our chairs. It was wonderful and a real privilege to be commentating on - not that there was much point in saying anything, the deafening sound told the story.
Stokes has been on fire for the whole match, but there are others who deserve credit.
Paul Farbrace, England's caretaker coach, is certainly one because he looks to have freed the shackles.
Farbrace has won a lot of friends in this England team and it is likely that he will work very well with Trevor Bayliss, the man we are expecting to be put in charge.
Ex-England batsman Ed Smith on Test Match Special
"It was one of the best Test matches of the modern era. Sometimes a great story needs a great ending and the look on Moeen's face after that fantastic catch was a mixture of joy, innocence and hopefulness. If England can remember those three things in the next 12 months of hard cricket it would be a wonderful thing."
Cook is another, not only for his batting but the way he captained. Yes, the decision to declare was taken out of his hands by England getting bowled out and I was baffled by the insistence on having a third man in place for Williamson, but he continued to shuffle his fielders and bowlers on the final day.
He did everything he could to force the result and some of his decisions clearly paid off - opting to stick with the bowling of Joe Root, introducing Moeen Ali and seeing him strike with his first ball.
I was also very pleased with the way Broad bowled, particularly at the beginning of the New Zealand second innings.
Some laughed in the Caribbean when I said that Broad was inching back to his best, but it is certainly the case.
The knee surgery he had was incredibly difficult for a pace bowler, then he returned at the World Cup and was trying desperately not to be flogged all around. He needed the confidence of overs in his legs.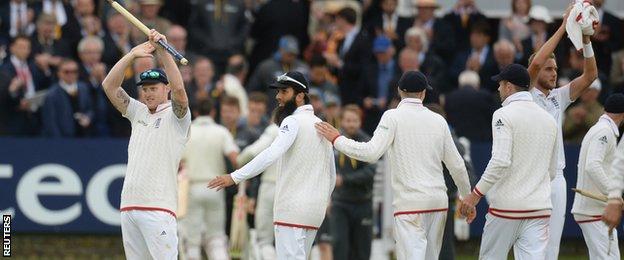 On the final day at Lord's, he bowled as well he did three years ago, kicking his knees up and prancing to the wicket. It's good to see him back.
Not only was it tremendous stuff on the pitch, but also in the stands as Lord's was filled with people who took advantage of the cheap final-day tickets.
Admittedly it was a bank holiday in the school half-term and there was a good day of cricket in prospect, but that shouldn't matter. The England and Wales Cricket Board should recognise they got a totally different crowd, full of those who might not always have the opportunity to get to Lord's.
If they also keep in mind the relatively small number that can watch live international cricket on television, the ECB should decide that no final-day tickets should ever be sold in advance in order for a crowd like this to be replicated again and again.
They were right behind England, which clearly did them good. It proves my point that there is goodwill towards the national team. At Lord's, it was reciprocated and appreciated by the players.
Jonathan Agnew was speaking to BBC Sport's Stephan Shemilt.