Kane stars as Leinster beat North West in Inter-pro T20
Last updated on .From the section Cricket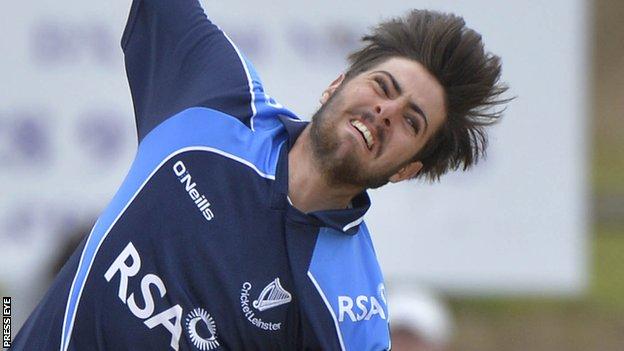 Tyrone Kane produced the best analysis in T20 Inter-provincial cricket as Leinster Lightning beat North West Warriors by seven wickets on Friday.
The Merrion all-rounder delighted the Angelsea Road support with a spell of five for 15 which reduced the visitors to 31-5.
Stuart Thompson and Graeme McCarter launched a Warriors fightback with a sixth-wicket stand of 90.
Two sixes from Max Sorensen sealed Leinster's victory in the 17th over.
Sorensen (24 not out) shared an unbroken fourth-wicket stand of 62 in 52 deliveries with John Mooney (53 not out) as Lightning made it three wins out of three in the Hanley Energy Trophy competition.
North-West Warriors 131-7 (S Thompson 71 not out; T Kane 5-15); beat Leinster Lightning 137-3 (J Mooney 53 not out, K Carroll 33) by seven wickets.