Northants hope Afridi can make connection with Asian community
Last updated on .From the section Cricket
Northants are hoping Pakistan all-rounder Shahid Afridi's brief spell with the club can foster closer links with the area's South Asian community.
It is Afridi's fourth stint with a county side having previously played for Kent, Hampshire and Leicestershire.
"It's important for me to interact with the South Asian community to talk about the importance of cricket," he said.
Last year the England and Wales Cricket board put strategies in place to "identify and engage with '10,000 Asian cricketers by 2017'".
And, with almost 19,000 people of Bangladeshi, Pakistani or Indian descent in Northamptonshire, Northants captain Alex Wakely believes his club must reach out to that group.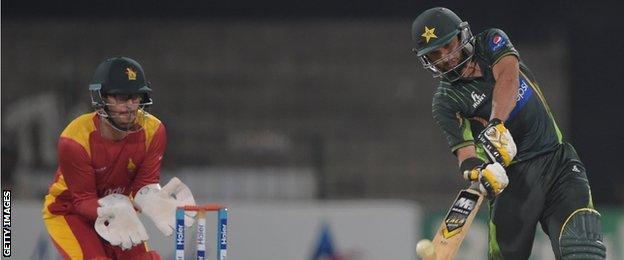 "There has to be a push to connect with the South Asian community," Wakely told BBC Sport. "Within Northamptonshire they have gone crazy over Afridi and we will hopefully get a bit of a different crowd in as well.
"Luton is relatively close to us and there is a big South Asian community and I want us to try to draw in as many fans in from there and bring in a different catchment area, which he will help our club do."
Afridi began his first-class cricket career at the age of 15 in November 1995 for a Pakistan Combined XI against England A, taking four wickets in the first innings including those of Nasser Hussain and Nick Knight.
Having previously played T20 cricket for Hampshire and Kent, and hitting a memorable 80 off 42 balls in a rain-affected 2011 semi-final loss for the former against Somerset, the right-handed batsman is eager to share his wealth of knowledge on the game.
But, Pakistan's second-highest limited-overs wicket-taker also believes that parents need to do more to nurture their child's talents instead of steer them towards more academic careers.
"I want to be able to talk about my experiences, playing any sport is a very natural thing and you cannot make all of your kids doctors or engineers," he explained.
Afridi's remaining matches for Northants

Friday, 29 May v Warwickshire

Friday, 5 June v Worcestershire

Thursday, 11 June v Derbyshire
Friday, 12 June v Leicestershire

Sunday, 14 June v Yorkshire
"You're given special talents and sometimes that is cricket and in England, with the opportunities and academies that are here, you need to make the most of it.
"Parents have a duty if their kids have that talent, then they need to support them."
South Asian cricketers have served Northants well in the past, with Mushtaq Mohammed, Bishen Bedi and Sarfraz Nawaz all part of the team that finished second in the Championship and won the Gillette Cup in 1976.
"Some of the best club cricketers I have played with in Northamptonshire have been South Asian and there is some seriously good talent out there," added Wakely.
"In Northamptonshire alone I would say six or seven of the best club sides have an Asian player who has been the most dominant player in the League for us and yet they do not quite get that step-up to play first class cricket over here.
"I think having a player like Afridi, who can be the frontman to drive a change in culture and get them a bit more involved is a great thing. Maybe he can be the one to bring about change for our local community."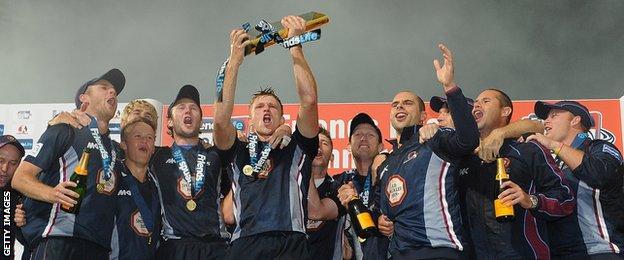 With his brother and family living in Luton, Afridi has a close connection to England and added that the country is like a "second home" for him.
Despite only having a limited time to play for Northants before heading to the Caribbean Premier League to play for St Kitts and Nevis Patriots, he wants to make the most of his time here.
"I am eager to put together a cricket camp while I am here for two or three days to give something back," he said.
"Kids nowadays are perhaps not going the right way in this country and it's important to try to reach out to the kids because you find if they are a fan of yours, they may listen to you a bit more than their parents."