Kevin Pietersen misled by ECB - Michael Vaughan
Last updated on .From the section Cricket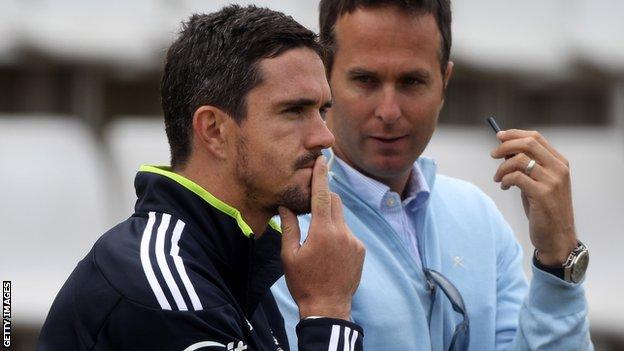 Kevin Pietersen has been misled by the England and Wales Cricket Board, according to former England captain Michael Vaughan.
Pietersen will not be considered for England this summer, two months after incoming ECB chairman Colin Graves suggested a return was possible.
"He's been misled and mistreated," Vaughan told BBC Sport.
"He's done everything that was asked of him, but taken down a path that was a dead end."
Pietersen was told his international career was over in February 2014, only for Graves to suggest the 34-year-old could add to his 104 England caps if he joined a county and scored enough runs to merit a recall.
As a result, the right-hander pulled out of a deal with Indian Premier League team Sunrisers Hyderabad and signed for Surrey.
He made 355 not out against Leicestershire but has been told by new England director of cricket Andrew Strauss that he will not be selected this summer because "trust has eroded" between Pietersen and the ECB.
Surrey director of cricket Alec Stewart, another former England captain, said: "He probably feels a little bit let down after Colin Graves' comments, where it was, 'if you play county cricket, if you score runs, the slate's been wiped clean, you will be considered'.
"He's given up a contract to play in the Indian Premier League, he's done what's been asked of him and now the door has been shut. He's given up a quarter of a million pounds on the back of Colin Graves' comments.
"That word trust may be a two-way thing."
Despite telling Pietersen he is surplus to requirements, Strauss did offer him a job of consultant to the limited-overs teams, one which was turned down.
"It's absurd, because you can't say 'I don't trust you to play in the side, but can I pick your brains for the one-day game'," said Vaughan. "Strauss will probably have to answer many questions about that.
"I hope somewhere down the line Kevin can be used, because he has a good cricket brain."
However, Vaughan did say he believes Strauss is a good appointment as director of cricket, a new post created following the departure of managing director Paul Downton.
As well as ruling on Pietersen's future, Strauss, who twice captained England to Ashes success, has also sacked coach Peter Moores.
"Strauss is a good appointment, the right man for the right role," said Vaughan.
"He's got tough decisions to make and has made one already to get rid of Moores. That was the right decision for the England team."