European T20: Guernsey captain Jamie Nussbaumer eyes four wins
Last updated on .From the section Cricket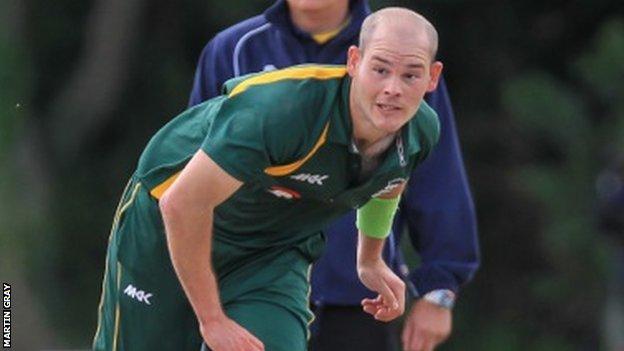 Guernsey captain Jamie Nussbaumer has said they are targeting four victories from their five matches at the European T20 Championships in Jersey.
The Islanders start the tournament against Denmark as they compete for the opportunity to progress to the ICC World Twenty20 Qualifier in July.
"If we get three (wins) I'd be happy, but I'd ideally like to get at least four," Nussbaumer told BBC Guernsey.
"Our absolute minimum ambition is to beat Norway and France."
Guernsey have showed positive signs building up to the tournament, beating a Sussex select side in their final warm-up match.
Denmark's squad includes former England bowler Amjad Khan, who tore through the Guernsey side when the teams met last year.
Nic Pothas' side will come up against Norway on Saturday afternoon after facing Denmark in the morning.
"I would hope that we will beat Jersey - they're always great games, and then finally we really want to turn over one of the big boys in Italy or Denmark," added Nussbaumer.
"We're at a point where we're as prepared as we can be. It's like the day before an exam - there's no point learning much more because if it hasn't gone in now it never will."