Alastair Cook, Moores & Moeen - questions Colin Graves will ask
Last updated on .From the section Cricket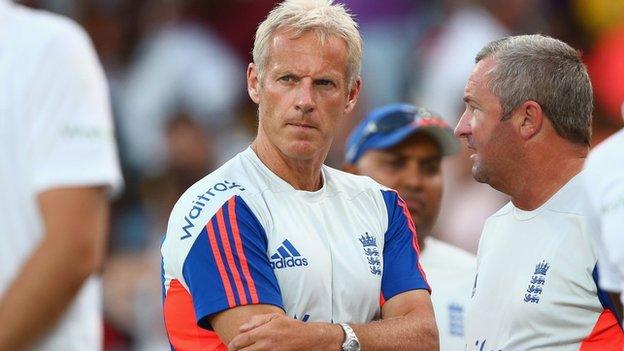 | | |
| --- | --- |
| By Stephan Shemilt, BBC Sport | |
If Colin Graves is a man of his word, then there will soon be an inquiry under way at the England and Wales Cricket Board.
In March, Graves - who will start as ECB chairman on 15 May - said there would be "some enquiries" if England did not win the Test series against what he called a "mediocre" West Indies team.
A three-day defeat in the third Test meant England could only draw the series 1-1, a final low point of a winter that has included humiliation at the World Cup.
On Monday, the BBC was refused the opportunity to ask Graves if an inquiry will indeed take place. If it does, what questions might he be asking?
How bad were England?
Graves's "mediocre" comments resulted from the fact West Indies began the series five places lower than England in the world rankings and had not won a Test match against a team other than New Zealand, Zimbabwe or Bangladesh since 2011.
In addition, they were without a number of players, including Chris Gayle, Darren Sammy and Kieron Pollard, because of their Indian Premier League commitments.
However, under new coach Phil Simmons, they looked like a side ready to re-emerge as competitive on the world stage, with BBC cricket correspondent Jonathan Agnew saying: "West Indies are not, in any way, a mediocre side, they are a developing side."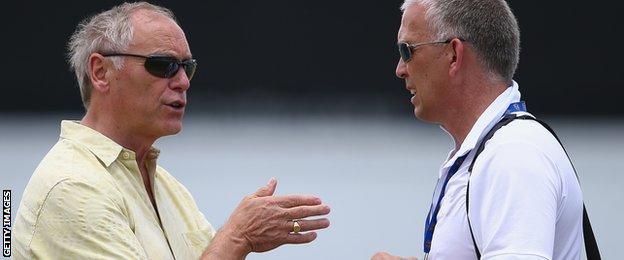 England had the better of much of the series, falling three wickets short of winning the first Test, conjuring victory in the second, before giving it away with a poor performance in the third.
Still, even when England were on top, questions were being asked. Why persevere with the now-retired Jonathan Trott at the top of the order? Why was leg-spinner Adil Rashid overlooked? Where is the fast-bowling support for record wicket-taker James Anderson?
Without the answers, England were exposed in the third-Test defeat in Barbados.
Why was Rashid not tried?
So poor were Moeen Ali, a batsman who bowls off-spin, and Joe Root, who is even more of a part-timer, on the second day of the final Test that it led former England batsman Geoffrey Boycott to label their collective effort as "the worst spin bowling I have ever seen from an England team, maybe any international team".
Their struggles highlighted the treatment of Yorkshire's Rashid, who was part of the touring party and played in both warm-up games but was not handed a Test debut, despite all three matches being played on slow, turning pitches.
The faith shown by Cook and coach Peter Moores towards Moeen comes from his performances last summer, when he took 19 wickets in the home series win against India.
Then, there was a lack of expectation of the Worcestershire all-rounder, who missed the first Test against West Indies with a side strain and took only six wickets in the next two, despite the helpful conditions.
Was Moeen simply below his best, or are England asking him to do a job that is beyond him? Why was Rashid not tried in conditions that appeared ideal?
England spinners in West Indies

Player

Matches

Overs

Runs

Wickets

Average

James Tredwell

1

66

140

5

28.00

Joe Root

3

46

101

3

33.66

Moeen Ali

2

60.2

208

6

34.66
"People should remember that Moeen has won Test matches for England," said former England off-spinner Graeme Swann. "The expectation on his shoulders because of that is massive and he needs time to develop because he is not an out-and-out spinner.
"Rashid should have had at least two Test matches in this series, but England's safety-first policy will always see them lean towards fast bowlers. That attitude has to change if we are to see more spinners come through."
Where is the support for James Anderson?
The struggles of England's spinners masked the ineffectiveness of a seam attack that is often reliant on Anderson.
As well as becoming England's leading Test wicket-taker in the first Test, Anderson bowled England to victory in the second Test and ended the series with 17 victims, the most on either side.
Stuart Broad, improving after knee surgery, took 10 wickets, but back-up pace bowlers Chris Jordan and Ben Stokes managed only nine between them.
England's seamers in West Indies

Player

Matches

Overs

Runs

Wickets

Average

James Anderson

3

119.2

306

17

18.00

Stuart Broad

3

111

320

10

32.00

Chris Jordan

3

104

256

6

42.66

Ben Stokes

3

64

256

3

85.33
"If Anderson doesn't get wickets, who will stand up and be the match-winner?" asked Boycott. "Even a gem like him can't do it every time. Someone else has to stand up to be counted."
Both Stokes and Jordan can contribute with the bat, as the former proved with his 79 in the first innings of the first Test in Antigua, but with wicketkeeper Jos Buttler as low as eight in the order, should their batting even be taken into consideration?
Would the extra pace of Liam Plunkett, whose 24 wickets helped Yorkshire win the County Championship title in 2014, or untried but promising Durham seamer Mark Wood, both unused squad members, have been more use to the four-man pace attack?
Who is going to open with Alastair Cook?
On the whole, England's batsmen can feel they have had a successful tour, even if a second-innings collapse to 39-5 was the catalyst for defeat in the final Test.
Four of the top five made a century, including an elusive first Test ton in two years for Cook. A settled middle-order of Gary Ballance, Ian Bell and Root may also suggest there is no room for Kevin Pietersen, despite Graves offering an olive branch to the discarded batsman.
England batsmen in West Indies

Player

Matches

Innings

Runs

Highest score

Average

Joe Root

3

5

358

182*

89.50

Gary Ballance

3

6

331

122

66.20

Jos Buttler

3

5

110

59*

55.00

Alastair Cook

3

6

268

105

53.60

Ben Stokes

3

5

176

79

35.20

Ian Bell

3

5

155

143

31.00

Moeen Ali

2

3

66

58

22.00

Jonathan Trott

3

6

72

59

12.00
However, the experiment of using Trott at the top of the order failed to such an extent that the 34-year-old retired from international cricket with 72 runs in his final six innings, including three ducks.
Trott was the fifth man to partner Cook since the retirement of Andrew Strauss in 2012, following Nick Compton, Joe Root, Michael Carberry and Sam Robson.
Yorkshire's Adam Lyth - another uncapped, unused member of the England squad in West Indies - is likely to become the sixth in the opening Test match against New Zealand at Lord's on 21 May.
"People who have scored a lot of runs in county cricket have not converted that to Test cricket," said Swann. "That's not to knock county cricket, because I am sure there is an England opener out there."
What does this mean for Cook and Moores?
Cook's return to form with the bat would suggest he is safe as captain, but any selection mistakes will be attributed to the skipper and coach Moores.
"You have to look at the captain and coach," wrote former England captain Michael Vaughan. "They always get the XI they want to take out on the field and have to be responsible for performance levels."
Following the defeat in Barbados, Moores said there was no need for an inquiry, while Cook believes that Graves's comments acted as a "team talk" for West Indies.
Still, the immediate future of Moores in particular looks likely to be a first decision for whoever is named as the ECB's new director of English cricket.
"Moores will have to do well this summer in order to appease a few people," said Swann.
"But he and Cook are good men who are doing a good job. There is a danger of a familiar over-reaction, calling for a mass cull. That shouldn't happen."
Where does the director of English cricket come into this?
The newly created role, which replaces the position of managing director recently vacated by Paul Downton, looks likely to be filled by former England captain Andrew Strauss, though a lack of public detail about the job makes it hard to know what his responsibilities will be.
One remit has suggested the new man will be little more than a spokesman for the coach, captain and selectors, while another says the ECB will create a supremo in charge of selection and the coaching staff.
It has been reported that whoever takes the job will be safe if England lose not only this summer's Ashes, but also the return series in 2017-18.
If defeat by England's fiercest rivals is to be tolerated, what does that say about the influence the ECB expects the director of cricket to exert?
"If Andrew Strauss is the new ECB director of cricket, it'll stay the same," said Boycott. "England have been exposed, but they will go on with same people."
But Swann countered: "Without seeing the job description, we have no idea how the man in this role will influence results.
"However, in my experience, Strauss is a natural leader of men and would be a great man to have in charge."
Is a return for KP still on?
If Strauss is the man for the job, Pietersen's brief flirtation with an England return would seem to be over.
The 34-year-old has rejoined Surrey in an effort to amass enough county runs to force the national team's selectors into a U-turn.
Kevin Pietersen for Surrey this season

Opponent

Competition

Innings

Runs

Highest score

Oxford University

Pre-season

1

170

170

Glamorgan

CC Division Two

2

72

53*

Essex

CC Division Two

2

40

32
But only last month, Strauss stressed the importance of England moving on from Pietersen against the backdrop of lasting tension between the pair.
Pietersen was dropped in 2012 for reportedly sending derogatory text messages about his then-captain Strauss to members of the South Africa team.
Last July, Strauss apologised to Pietersen after making an offensive remark about him during a live television broadcast when he thought he was off-air.
So what does this all mean for the Ashes?
With only two Tests before the start of this summer's Ashes on 8 July, England have ended a tour that looked to be an ideal fact-finding mission with more questions than answers.
The identity of Cook's opening partner, the frontline spinner and the back-up seamers to Anderson and Broad are all to be confirmed in the May matches against New Zealand.
Hardly an ideal position from which to win the Ashes from a largely settled Australia side containing the runs of David Warner - 1209 in his past nine Tests, Steve Smith - on a run of four successive Test centuries - and captain Michael Clarke, who has more than 8,000 in Tests at an average of 50.79.
Add to that the bowling firepower of Mitchell Johnson - whose 37 wickets blew England away in the last Ashes series, Mitchell Starc - with 22, the joint leading wicket-taker at the recent World Cup - and Ryan Harris, who took 22 wickets in the last Ashes.
However, Swann believes the result in the Caribbean will have "no bearing" on the Ashes.
"It was a series that people think England should have won, but they weren't able to get over the line," he said. "Their Test form of the past seven or eight matches is pretty good, so I'm not panicking."
Still, if there is an inquiry after a draw in the West Indies, imagine the fallout from a first home Ashes defeat in 14 years.