ICC investigates possible plot to create rival governing body
Last updated on .From the section Cricket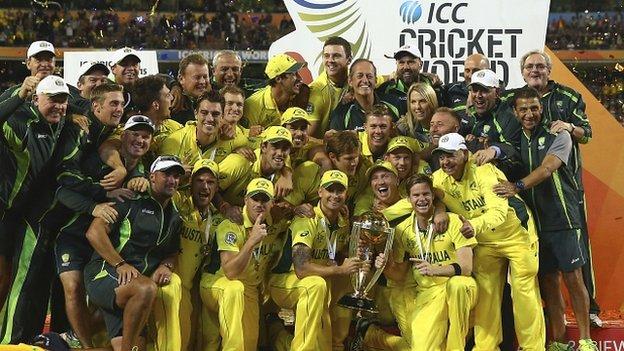 The International Cricket Council is investigating the registration of certain company names after concerns that there might be a plot to establish a rebel cricket organisation.
Reports claim Indian media firm the Essel Group has registered company names to rival cricket-playing nations.
Essel has stated that it is "geared up to enter the sports business at a global level, focusing on cricket".
But the ICC said the registrations were of "concern to the sport of cricket".
However, Angus Porter, the chief executive of the Professional Cricketers' Association (PCA) - the cricket players' union in England - told the BBC none of his members have reported an approach to be recruited for a rebel league.
Essel, owned by billionaire Subhash Chandra, was the driving force behind the ill-fated rebel Indian Cricket League which collapsed after two years in 2009.
And in an interview in the Guardian newspaper, Lalit Modi - the creator of the Indian Premier League - says that he walked away from discussions with Chandra to create a rival to the ICC - world cricket's governing body.
Modi said the project had been in planning for "years" but withdrew from talks as he thought it could not be achieved.
But he said: "If Chandra puts money on the table things could start very quickly. The ICC should be fearing him."
The Essel Group has attempted to register company names such as "Australian Cricket Control Pty Ltd" and the "Cricket Association of England", which concerned the English and Wales Cricket Board.
Cricket Australia also dismissed as "highly speculative" media reports that Australia players Michael Clarke and David Warner could be offered £26m contracts over 10 years.
Cricket Australia chairman Wally Edwards said: "As it stands, Australia's cricketers are the highest-paid athletes of any team sport in the country and the earnings of our top-ranked players would already be close to the numbers referenced in today's media reports.
"But our pay structure is broader than that. It's about supporting professional cricket at both international and domestic level. The success of international cricket directly subsidises the wages of state cricketers. Any proposed rebel league would jeopardise that."