Stuart Broad defends England sledging in West Indies Test
Last updated on .From the section Cricket
Stuart Broad has defended England's sledging during the second Test against West Indies in Grenada.
Batsman Marlon Samuels said attempts by England's Ben Stokes to goad him acted as motivation as he scored 103 in his side's innings of 299.
But Broad insisted players should be encouraged to engage in verbal sparring if it comes naturally to them.
"If you are the sort of character who likes to feel you are in a battle, then make sure you do that," he said.
Broad took 4-61 before Alastair Cook and Jonathan Trott guided England to 74-0 at the close on day two.
The three-Test series remains level after the first contest in Antigua ended in a draw.
Broad insisted England's sledging was not a "tactic" but added: "There's no point sitting back.
"I know the International Cricket Council are very strict about what you are allowed to do and what looks good on TV, but you can't let that take away from your natural game.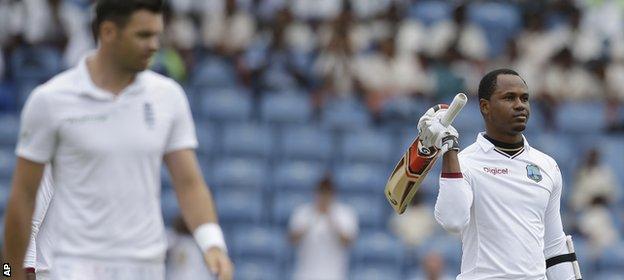 "We've got a few guys in this squad who like to be in a battle and I think you need that in Test cricket. When two players are playing with passion for their country, that's good to see."
Samuels had derided England's attempts to talk him out after reaching 94 not out on the first day.
"It's obvious the English boys don't learn because whenever they talk to me I continue scoring runs," he said.
But he could only add nine runs on Wednesday before edging a James Anderson delivery to second slip.
"Marlon will be very disappointed with the way he got out when he was in a position to go on," said Broad. "We were obviously delighted when he had that big whoosh outside off stump and gave us an opening."