West Indies v England: Marlon Samuels rebukes Ben Stokes
Last updated on .From the section Cricket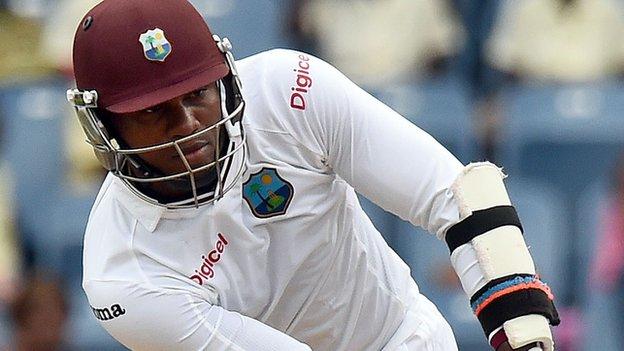 West Indies batsman Marlon Samuels has mocked England all-rounder Ben Stokes and his attempts at sledging during the second Test in Grenada.
In 2012 he derided James Anderson's attempts to talk him out while scoring a century at Trent Bridge.
"It's obvious the English boys don't learn because whenever they talk to me I continue scoring runs," said Samuels. "But they keep on talking."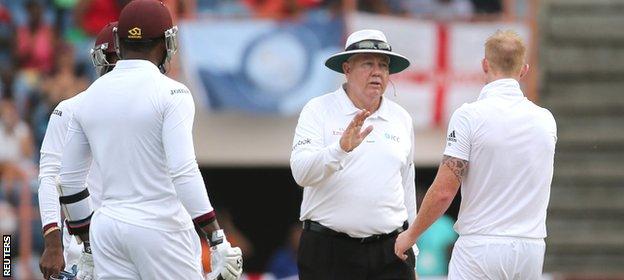 He added: "I guess they can't help it. I kept on telling him that but I probably have to tell him something different because he's not listening.
"He keeps talking to me but it keeps me motivated and keeps me batting."
Asked if he felt the sledging had been counter-productive, Samuels replied: "It all depends on how the morning goes... Marlon Samuels 150, Ben Stokes with the ball in his hand. It will be very interesting."
Former England batsman Geoffrey Boycott
"I feel a little disappointed for the spectators, the players and Test match cricket because a lot of people came very far to watch a day where it was hard to score runs. It was hard for the batsman and bowlers to get on top. Crowds are going down and you are wanting people to watch Test cricket but I feel the groundsman here has ruined the pitch."
England bowler Chris Jordan, who took the wickets of Devon Smith and Jermaine Blackwood after England elected to field first, saw nothing wrong with Stokes and Samuels facing off.
"Stokesy likes to get in a battle and what you saw was two cricketers going at it for their country," he said.
"That kind of stuff makes Stokesy tick. Any time he's in a battle, all 11 of us are going to back him.
"It's good to see two cricketers going at it without crossing the line. Hopefully see much more of that."
The first Test in Antigua ended in a draw. The third and final Test in Barbados begins on 1 May.