Andrew Flintoff: England captain Alastair Cook needs backing
Last updated on .From the section Cricket
Former England captain Andrew Flintoff says current Test skipper Alastair Cook will prove his doubters wrong.
In a wide-ranging interview, the all-rounder discusses whether he would work in England's management team and Kevin Pietersen's possible Test return.
And the 37-year-old is forthright in his defence of Cook, 30, who has scored just three half centuries in his last 15 Test innings.
"There will be egg on a lot of faces in the next few months," said Flintoff.
"I'd like people to start getting behind him, as opposed to being negative. He doesn't deserve that."
Flintoff on Alastair Cook's future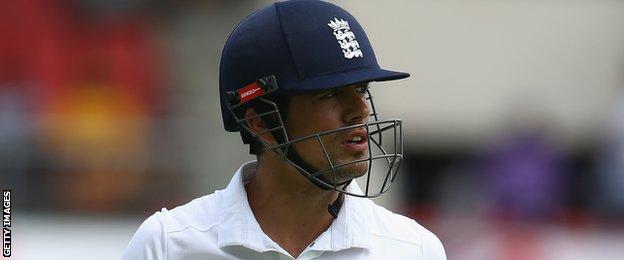 Cook managed scores of just 11 and 13 in the first Test against the West Indies, which follows on from a difficult 2014, when he oversaw a 5-0 Ashes defeat by Australia and was removed from the one-day captaincy.
Flintoff, who captained England in 11 Tests, said: "He's got a lot of resolve and strength in character and he will come back.
"When my daughter grows up, if she brought a bloke like Alastair Cook home, I'd high five the wife."
Flintoff on England form
England's current Test series against the West Indies comes after a disastrous World Cup, which was preceded by a home Test series defeat by Sri Lanka.
"I think English cricket is on the cusp of something special," said Flintoff.
"I wouldn't get too hung up on the World Cup. I played in four World Cups and we were terrible in all of them.
"I look at England's team, and we're as strong as we ever have been. We've got a lot to celebrate in English cricket and I'd like us to start doing that.
"The one thing the team needs now is a bit of love, a bit of backing - from the public, pundits and press."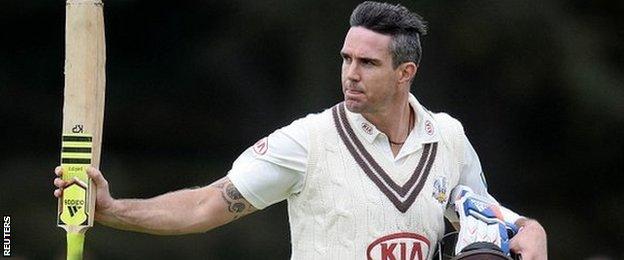 Flintoff on Kevin Pietersen
Kevin Pietersen has opted to play county cricket for Surrey this year, in a bid to earn selection in the England side.
It looked like the 34-year-old's international career was over after he was sacked in February last year, but incoming ECB chairman Colin Graves has recently opened the door to an England return.
"Kevin is an extraordinary talent. A lot has gone on over the past two years. I'm still not quite sure what happened - he's written a book and this, that or the other," said Flintoff.
"But now it's more about Kevin Pietersen as a cricketer. He's gone back to Surrey. If he's got ambitions of playing for England, he's going to have to make his case by scoring lots of runs.
"However, you don't just walk back into an England team. You've got Gary Ballance who's done well at three, Ian Bell at four and then Joe Root and Ben Stokes. I think Jos Buttler could be England's AB De Villiers, he's that good."
Flintoff on ECB job
Flintoff was asked whether he would be interested in the ECB's newly created position of director of cricket, a role that former captains Michael Vaughan and Andrew Strauss have been linked to.
His response was unequivocally 'no'.
"Have you just offered me the job of director of English cricket? Really? Did you see me as captain?" said Flintoff.
"I don't think there's any chance. There are a lot of names being bandied around, great England captains like Strauss and Vaughan.
"I'll be honest with you, I don't even know what the job entails. I was a foot soldier who used to go out and play - that was my strength.
"I'm not too sure that I'm in the position to be saying who should be getting the job."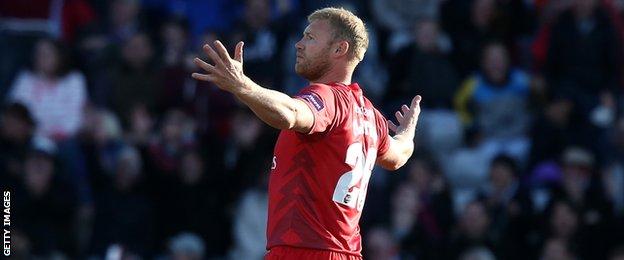 Flintoff on the T20 Blast
Flintoff's club Lancashire will be looking to go one further than their defeat in the final of last year's T20 Blast, which begins on 15 May.
However, the all-rounder is unsure if he will be part of this year's competition.
"I've not spoken to Lancashire or head coach Ashley Giles yet," said Flintoff.
"I need to see whether he wants a 37-year-old man playing for his team, and whether I want to play as well.
"When I look back, losing last season's final still bothers me. I still think about what I could have done to win that for Lancashire. You have to let it go at some point.
"I look at some of the young lads and I'm jealous. They've got all this cricket ahead of them - I wouldn't mind being in that position again."