Notts chief Mick Newell predicts fewer four-day games
Last updated on .From the section Cricket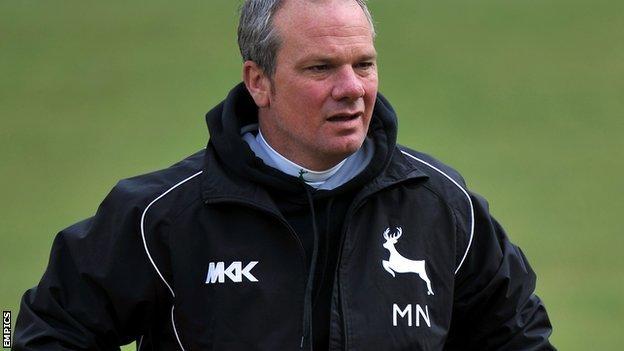 Nottinghamshire director of cricket Mick Newell believes the number of County Championship matches per season will soon be reduced.
Each county currently plays 16 four-day matches a season, as well as a minimum of eight 40-over and 13 T20 games.
"I would be almost certain in my opinion that a reduction in four-day cricket is coming," said Newell.
"How they do it is not for me to worry about, but I think we'll be down to 12 to 14 four-day games fairly soon."
The 50-year-old is the longest-serving coach on the county circuit, having been in charge at Trent Bridge since 2002, and has overseen two Division One titles.
"I like divisional cricket and I wouldn't want to see us all playing in one big pot, and I wouldn't particularly want a conference system," he added to BBC Radio Nottingham.
"I like relegation and promotion because that makes the league more competitive."
But Newell, who is also an England selector, was unsure about proposals to introduce three seven-team divisions.
"If they can find three more teams then fine, but it would strike me as adding more teams - unless they come from overseas like Ireland, Scotland and Holland maybe - that there aren't enough players in this country to generate a high enough quality of cricket."