Richie Benaud changed the face of cricket - Sir Michael Parkinson
Last updated on .From the section Cricket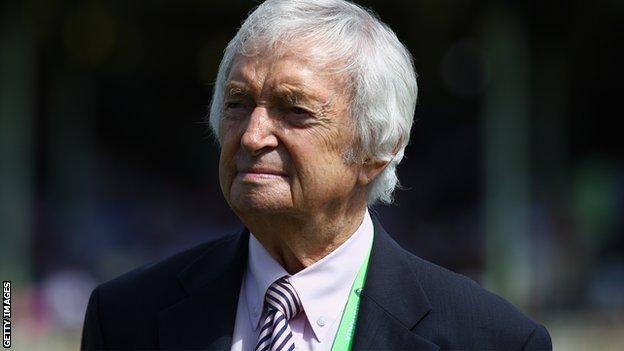 Richie Benaud was "an architect of the greatest change to cricket there has ever been," according to veteran broadcaster Sir Michael Parkinson.
Benaud, who died on Thursday aged 84, played 63 Tests for Australia as a leg-spinning all-rounder before becoming an acclaimed broadcaster for 50 years.
In the 1970s he was an advisor to Kerry Packer's breakaway World Series Cricket in Australia.
Parkinson told BBC Sportsweek: "The two of them changed the face of cricket."
He added: "Richie was a very unpopular man over there at the time of the formation of the World Series. People regarded him as a traitor.
"But he thought through what Packer was after. He understood this was a passport to young cricketers becoming stars and being properly paid. He assessed the argument and went with Packer. "
In 1977 media mogul Packer sparked outrage by starting World Series Cricket - a rival tournament set up in opposition to established international cricket and broadcast on his Channel Nine network in Australia.
Offering lucrative contracts, Packer was able to persuade some of the biggest names in the sport to join the breakaway competition, which introduced day-night cricket.
As well as acting as Packer's advisor, Benaud fronted Channel Nine's coverage.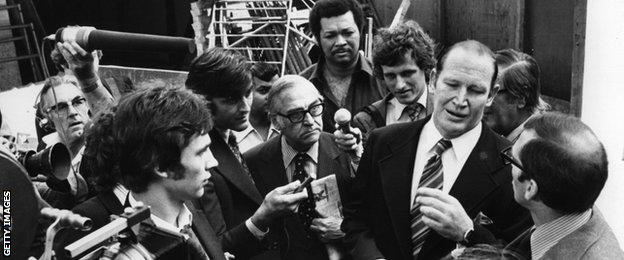 "It took a lot of guts to side with Packer. You might be a traditionalist, as partly I am, but nonetheless it's made everyone in the game richer, happier and better," added Parkinson.
"Richie saw the benefits of the change and you can only admire that. Looking back with hindsight, I confess I was wrong and they were right."
'Quite simply the best'
Former England captain David Gower paid tribute to Benaud on Sunday: "The first thing to say about Richie Benaud as a broadcaster, and perhaps as an all-round cricketer, is that he was, quite simply, the best. He was the best at finding the right word at the right moment, at catching the mood, and at knowing when to speak and when not to speak."
Ex-England batsman David Lloyd: "One day, when Richie did two half-hour stints as one of three commentators, he did not say a single word. But that was Richie. If there was nothing to add to the picture the viewers could see, he wouldn't add to it. He never sought the limelight. He wasn't in it for the ego."
Former BBC commentator Jack Bannister: "Richie became my best friend in life. I joined him on the BBC television team in 1987. That was where I really got to know him. Tempers would fray, fall-outs would occur but never involving Richie. He was the coolest of the lot."
'Yours sincerely, Richie Benaud'
In September 1996, teenage left-handed spin bowler Jonathan Stevenson, wrote to Benaud for some advice.
Benaud answered, thanking him for his "timely letter", attaching a tip sheet for left-handed bowlers, and telling Jonathan to "enjoy your cricket and your bowling".
It ended: "Don't even think about learning the 'flipper' before you have mastered the leg-break, top-spinner and wrong 'un."