Cricket World Cup 2015: Wahab Riaz and Shane Watson punished
Last updated on .From the section Cricket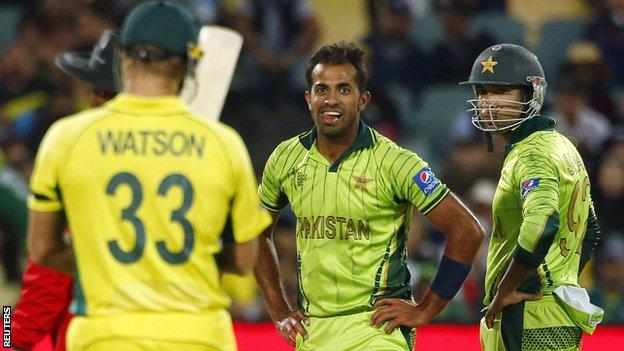 Pakistan pace bowler Wahab Riaz and Australia all-rounder Shane Watson have been fined after a fiery confrontation in Friday's World Cup quarter-final.
Riaz was penalised 50% of his match fee by the International Cricket Council (ICC) for using "aggressive and abusive language" at the end of an over.
Watson lost 15% of his fee for "conduct contrary to the spirit of the game" after a verbal exchange with Riaz.
The flashpoint came after the 33rd over of Australia's successful run chase.
An ICC statement read: "Watson ignored the umpires' instructions and verbally engaged with Wahab, who, at the end of the over, followed through towards the batsman and used aggressive and abusive language."
Left-armer Riaz peppered Watson with an array of fast, short-pitched deliveries, in a spell described by Australia captain Michael Clarke as "as good as any I've faced in one-day cricket for a long time".
However, Watson who was crucially dropped at long leg off Riaz, held out long enough to see Australia to a six-wicket win.
Match referee Ranjan Madugalle added: "It was an enthralling contest between Shane and Wahab, but in the closing stages of the match both players crossed that fine line between intense competition and unacceptable behaviour."
Listen to highlights from Test Match Special's and 5 live Sport's 2015 World Cup coverage.