Kevin Pietersen: Former batsman eyes England Ashes return
Last updated on .From the section Cricket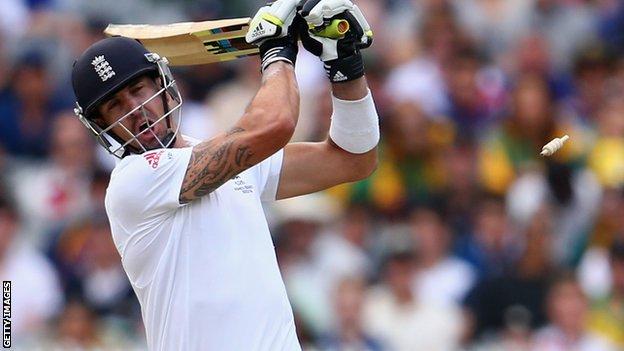 Kevin Pietersen says he wants a face-to-face meeting with new England cricket chief Colin Graves as he steps up his bid for a comeback in the Ashes.
Pietersen, who was sacked in February 2014, told BBC Test Match Special he had spoken to Graves on the telephone about a possible return.
He said he would not be "rushing into" any decisions but remained "hungry" to avenge England's 5-0 Ashes whitewash.
The 34-year-old said returning in the Ashes would be "like being reborn".
'Disengaged and disconnected'
Pietersen's England career appeared to be over when his central contract was cancelled in the wake of England's dismal showing in the 2013-14 Ashes down under.
At the time, England and Wales Cricket Board (ECB) managing director Paul Downton described him as "disengaged" and "disconnected" from the team.
On Wednesday, national selector James Whitaker insisted Pietersen was "not part" of the team's plans.
However, Yorkshire chairman Graves, who will take over at the ECB in May, appears keen to give the player a fresh start.
In an interview on BBC Radio 5 live's Sportsweek, he raised the prospect of a recall by challenging Pietersen to score runs in county cricket.
Speaking in his capacity as a TMS pundit, Pietersen said: "I have had conversations with the chairman but I think what we need to do is sit down and do it face to face. I don't think me speaking on a telephone is the way forward in making big decisions.
"I love what Colin Graves has done for Yorkshire. It's an exciting time so to be part of that would be amazing."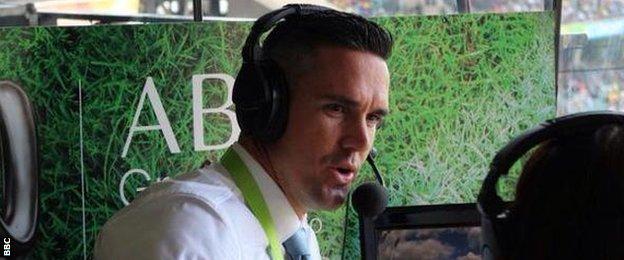 Listen live to BBC Test Match Special
Surrey or Sunrisers?
Graves's stance has prompted Pietersen to rethink his priorities for 2015.
He is negotiating his release from a contract to play for Sunrisers Hyderabad in the Indian Premier League (IPL) and holding talks with county team Surrey - but suggested that nothing will be signed until he receives assurances over his England future.
"It is still a work in progress," he said. "I won't be rushing into anything.
"I've got an incredibly busy schedule this year but I'm willing to put stuff on hold and make sure I make the right decision. I'll do anything to play for England if I can get a fair crack at it, for sure."
Pietersen's Test record by opponent

Opponent

Matches

Innings

Runs

Highest score

Average

Australia

27

50

2158

227

44.95

Bangladesh

4

7

342

99*

68.40

India

16

28

1581

202

58.55

New Zealand

8

13

530

129

40.76

Pakistan

14

25

755

135

30.20

South Africa

10

18

817

152

45.38

Sri Lanka

11

19

874

158

51.41

West Indies

14

21

1124

226

56.20

Overall

104

181

8181

227

47.28
Hungry for revenge
England travel to the West Indies for a three-Test tour in April before hosting New Zealand for two Tests in May.
But Pietersen's prime motivation is the prospect of playing against Australia again in the Ashes in July and August.
"It does make me hungry," said Pietersen, who has won four and lost two Ashes series from 2005 onwards.
"Up until two weeks ago there was no chance in a couple of people's minds that I would have the opportunity to come back and try to avenge the 5-0 defeat," he said.
"Playing international cricket is something I've dreamt of as a child. Given an opportunity it's like being reborn or starting a career again."
'Real buddies'
Pietersen's biggest obstacle may lie within the England team. He was critical of several players in his autobiography last year, while Test captain Alastair Cook said this week that a Pietersen comeback was "very unlikely".
Asked about his relationships with his former team-mates, Pietersen insisted he remained on good terms with several England players.
"There are so many of the guys in that side who are my real buddies," he added.
"It has been frustrating over the last 12 months to get messages and little bits of information from the dressing room asking me 'how would you do this and that?'
"I'd prefer to be out there helping them, being the senior batter who can go out there and hopefully carry England through sessions and be positive and take the attack to oppositions."
2015 Ashes fixtures
8-12 July:
First Test, Cardiff
16-20 July:
Second Test, Lord's
28 July-2 Aug:
Third Test, Birmingham
6-10 Aug:
Fourth Test, Nottingham
20-24 Aug:
Fifth Test, The Oval
Form and fitness
The latter part of Pietersen's England career was dogged by injuries to his Achilles tendon and knee.
Since his last England appearance, in the Sydney Ashes Test in January 2014, he has only played Twenty20 cricket.
But he found form in the Big Bash in Australia, hitting 293 runs in eight innings, and is feeling good about his fitness.
"Look at the way I batted in Australia," said Pietersen, who scored 8,181 runs in 104 Tests. "That has given me so much confidence.
"If my knee was as sore as it was last year then I probably wouldn't have had the confidence I do now to know I will continue to do a good job.
"I'm very lucky to have had the international career that I've had. I'm very proud of my numbers but I'd love to add to them."