England cricket is more like EastEnders than Dallas
Last updated on .From the section Cricket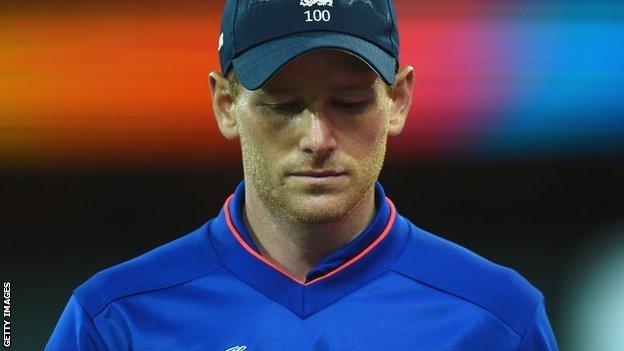 Michael Vaughan is right - the England cricket team is like a soap opera. But he is also wrong - it would make a terrible movie. Because the English cricket team is like an English soap opera - tortuous, tedious, bleak and utterly dispiriting.
While American soap operas tend to be Wagnerian in ambition - hence 'opera' - British soap operas lean towards detergent.
Americans got Dallas, which revolved around a feuding family of oil barons. Britain got EastEnders, which revolved around a couple of women grumbling in a sweaty launderette.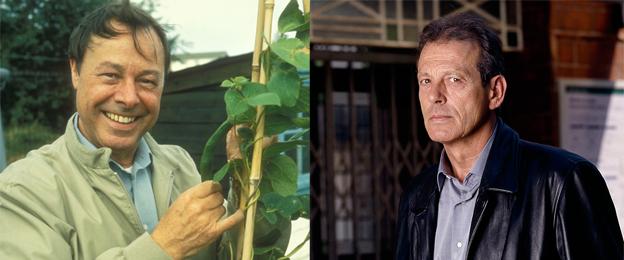 There is an awful lot of grumbling in this current England set-up.
Alastair Cook is grumbling because he got dropped before the World Cup, conveniently forgetting that England have won one series in the last two years and that was when he was on a sabbatical from his job as captain.
Cook thinks he's Dirty Den - integral to the narrative and cruelly discarded. He was actually Arthur Fowler, clogging up the script.
Chairman of selectors, James Whitaker, is grumbling because people keep asking him if Kevin Pietersen will be returning.
Whitaker says Pietersen has no chance of an England recall. They said the same about Bobby Ewing, and suddenly there he was, scrubbing his back in the shower, seemingly back from the dead.
The entire previous series of Dallas - all 31 episodes - had actually been a figment of his wife's dreams.
Alas for Whitaker and the rest of the England hierarchy, they're not actually asleep. They only want the last 18 months to be a bad dream and perhaps to wake up just as Pietersen is racing towards a century in Sydney, rather than getting busy with a loofah.
But because this is English cricket there will probably just be more grumbling and the only operatic figure will remain on the dead list.
Imagine the Dallas producers writing JR Ewing out of proceedings because the actor who played him, Larry Hagman, got too big for his cowboy boots? Don't be so stupid.
But English cricket bumbles along in Pietersen's absence and we still don't really know who shot him, more than a year after he was erased from the script.
In his absence, England have looked stale, on the pitch and off it, culminating in their embarrassing early exit from the World Cup at the hands of Bangladesh.
It wasn't even dramatic or unexpected, more like the natural termination of a meandering and peripheral storyline.
England's nightmare 12 months
Feb 2014:
Kevin Pietersen sacked following 5-0 Ashes defeat in Australia
Mar 2014:
England fail to get out of their group at the World T20
Dec 2014:
Alastair Cook replaced by Eoin Morgan as ODI captain after series defeats by India and Sri Lanka (twice)
Mar 2015:
England knocked out of World Cup after losing four of six games
18 Mar 2015:
Pietersen reveals he will do "anything" to regain his England spot; selector James Whitaker says he is "not part" of their plans
19 Mar 2015:
Incoming ECB chairman Colin Graves admits he has spoken to Pietersen about a return to the England side
Elsewhere in Australia and New Zealand, some of the cricket has been truly operatic.
You could have set AB de Villiers's 64-ball 150 for South Africa against West Indies or Chris Gayles' 215 for West Indies against Zimbabwe to Wagner's Ride of the Valkyries.
Most England innings are the cricketing equivalent of Dvorak's New World Symphony, otherwise known as 'that music from the Hovis advert' - the one with the small boy pushing a bread-laden bike up a steep, northern hill.
When one-day cricket went supersonic, English cricket was napping. And so the England team is made up of bit-part players and stolid pros rather than swashers, bucklers and dashing leading men.
Love him or loathe him - and lots of people do - at least Pietersen got tongues wagging round the nation's water coolers.
"If any producer is willing," said former England captain Vaughan, "make a movie [about the England team]."
Lots of men sitting about grumbling about things in boardrooms and dressing rooms. It would make EastEnders look like The Bold and the Beautiful.