Alastair Cook says England were wrong to drop him from team
Last updated on .From the section Cricket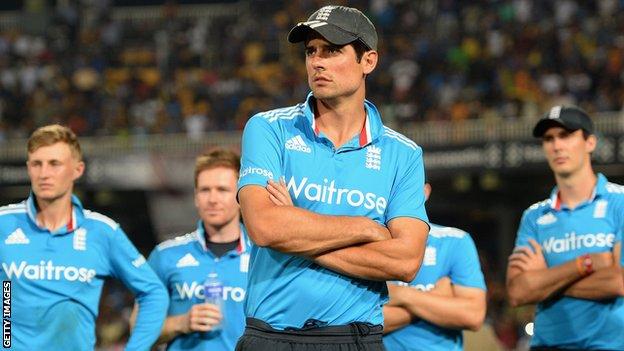 England captain Alastair Cook has criticised the selectors for dropping him as one-day captain in the build-up to the World Cup.
Cook says England's dismal performance at the tournament proved the decision to get rid of him was wrong.
"The selectors made that decision because they thought it was the best for English cricket," Cook told Dubai Eye 103.8 radio station.
"Hindsight has probably proved them wrong, but now it's easy to say that."
The 30-year-old was appointed one-day captain in 2011 and was initially successful, taking England to the top of the world rankings and the final of the Champions Trophy in 2013.
But Cook's form slumped over the next 12 months and he was removed as one-day captain in December, two months before the World Cup, and replaced by fellow batsman Eoin Morgan.
"I think you saw in Australia at the World Cup the dangers of making such a big decision so close to the tournament," Cook added.
"I don't know what's gone on on that tour, but it did look like the lads were shell shocked from the first two games. That's when you need real leadership to help steer you through that.
"I would have loved to have had the opportunity that was taken away from me."
England's miserable World Cup
Lost to Australia by 111 runs, Melbourne
Lost to New Zealand by eight wickets, Wellington
Beat Scotland by 119 runs, Christchurch
Lost to Sri Lanka by nine wickets, Wellington
Lost to Bangladesh by 15 runs, Adelaide
Beat Afghanistan by nine wickets, Sydney
Cook did not preside over a one-day series victory in 2014 and averaged only 27.52 in his last 20 limited overs games.
He acknowledged that given his poor form he "couldn't complain" about losing the one-day captaincy, but said the ECB's decision - and the subsequent woeful World Cup campaign - has damaged confidence.
"We have a repairing job to do, and the only way of doing that is by playing some good cricket and to start winning," he added.
England were knocked out of the World Cup after losing four of their six group games, including defeat to Bangladesh.
It was England's worst showing since a first-round exit on home soil in 1999 and led to calls for head coach Peter Moores and managing director Paul Downton to stand down.
Cook remains captain of England's Test team and will lead the side on the three-Test tour of West Indies in April and May.
England's World Cup record since 1992

1996: Quarter-finals

2007: Fifth

1999: Group stage

2011: Quarter-finals

2003: Group stage

2015: Group stage