Kevin Pietersen: Ex-England batsman 'looking at' county move
Last updated on .From the section Cricket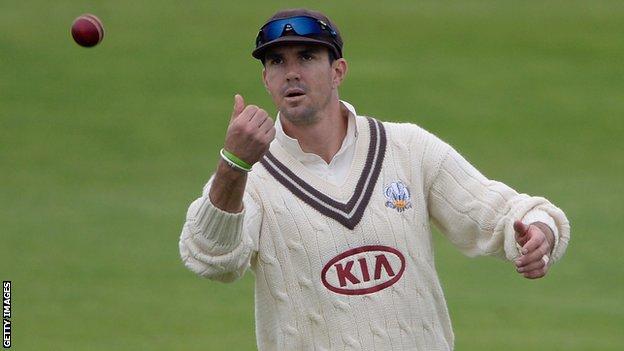 Kevin Pietersen says he may miss the Indian Premier League to play county cricket in an attempt to earn an England recall.
Pietersen signed for Hyderabad in the IPL, which runs from 8 April to 24 May.
Asked if he would instead play county cricket, he told Fox Sports Australia: "That's what I'm looking at."
Pietersen, who was released by Surrey at the end of last season after exclusively playing Twenty20 cricket for them in 2014, said: "It just makes perfect sense to explore different things.
"It's the weekend now so nobody will be picking up their phone. Monday, Tuesday, Wednesday will be very exciting hopefully."
Which county could Pietersen play for?
Which team said they would have "no problem" signing Pietersen? Which side said it was "not something we would pursue"? And which counties are keeping their cards close to their chest?
Click here to read more
Pietersen, who won 104 Test and 136 one-day caps for England, has not played international cricket for 14 months, since the 5-0 Ashes whitewash in Australia.
In October, he released an autobiography in which he was heavily critical of senior ECB figures and England players.
National selector James Whitaker said at the time that there was "no way" Pietersen would return to the England team.
Graves, who succeeds Giles Clarke as ECB chairman in May, said earlier this month that the selectors "can't ignore" Pietersen if he "scores a lot of runs" for a county.
However, an ECB spokesperson said "nothing has changed" after Graves' remarks, adding: "Only players who are playing consistent high-quality county cricket and who are seen as a positive influence will be selected."
Pietersen added on Saturday: "There will be a change of scenery at board level with the ECB and I've always expressed my desire to play for England again if I get the opportunity.
"It seems encouraging but I've got a few steps that I've got to climb."
Asked if he could work with current England coach Peter Moores again - after the "irretrievable breakdown" of their relationship in 2009 - Pietersen replied "absolutely".
Pietersen resigned the England captaincy but stayed on as a player, while Moores was sacked as England coach, with the ECB wanting "dressing room unity".
Pietersen said: "I can't captain because I don't think my relationships are great, but I played under Andy Flower and probably had a pretty worse relationship with Flower than I did with Moores."
Ex-England batsman Geoffrey Boycott
"It needs to be put clear to Kevin that if he plays well in county cricket then there's going to be a genuine - and I mean the word genuine - change of heart and change of opinion that he is going to be open for selection and that they are going to put bygones to one side. I don't think that it is fair to ask anybody to give up an IPL contract because that's all he has. He only has T20 around the world."
Since being sacked by England, Pietersen has also had stints in the Australian Big Bash and Caribbean Premier League, but has not played first-class domestic cricket since June 2013.
As well as his £205,000 contract with Sunrisers Hyderabad, he is again scheduled to play for St Lucia Zouks in the Caribbean Premier League in June and July.
The County Championship, the English first-class competition, starts on 12 April.
Asked if he wants to play Test or one-day cricket for England, Pietersen said: "When you don't play any form of international cricket and you've had it for such a long time, [you want to play] anything, absolutely anything.
"You miss it so much when you're not playing.
"I've been lucky to play the Big Bash, play the IPL or play the Caribbean League. But Test cricket, one-day cricket, playing for your country is very special."
England were this week knocked out of the World Cup at the group stage with only two wins from six games.