Majid Haq still has Scotland future - Preston Mommsen
Last updated on .From the section Cricket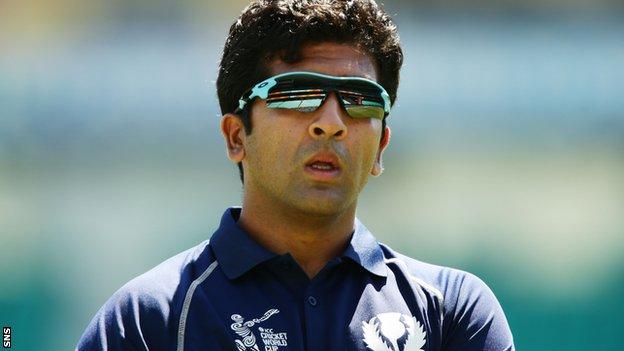 Scotland captain Preston Mommsen has backed bowler Majid Haq to return to the international side despite being sent home from the World Cup.
"I've no doubt he'll learn from it and he'll definitely be back.
"It's vital we keep hold of Maj, he still has a very important role to play for us in the future," said Mommsen.
After learning of his exclusion from the side to face Sri Lanka, Haq - who is Scotland's all-time leading wicket-taker - tweeted: "Always tougher when you're in the minority! #colour #race".
The off-spinner left the squad and flew home ahead of the Scots' final group match against co-hosts Australia on Saturday, also in Hobart.
"I can certainly understand Maj's frustration at being left out," Mommsen told BBC Sport.
"I rate him highly, he's one of our standout performers.
"I understand his frustration but there are ways of showing that frustration and venting that frustration, and I don't think social media was the right option for him. Regrettable for us and disappointing as team that he chose that route.
"It's vital that we keep hold of Maj."
After five defeats from five matches, Mommsen hopes the Scots can exit the tournament on a high with a good performance against the Aussies.
"It's going to be an awesome experience, something we're very much looking forward to as a team.
"Obviously five games, no win yet, which is disappointing. However, I think we're a much better team, a much stronger team because of the five experiences we've had at this World Cup.
"It's a nice way to finish for us and we're ready to go."