Mohammad Amir: Pakistan bowler returns after four-year ban
Last updated on .From the section Cricket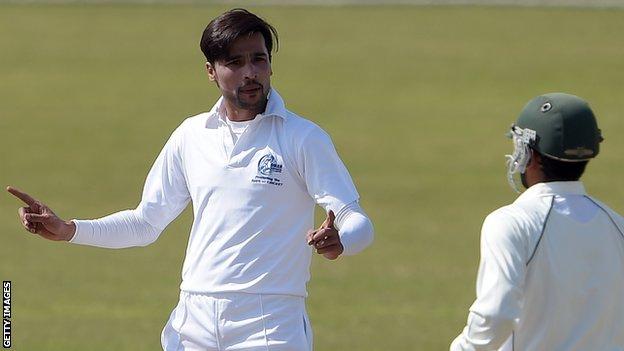 Pakistan fast bowler Mohammad Amir has returned to action after serving a four-year ban for spot-fixing.
Amir, 22, is not allowed to return to international cricket until September but took three wickets in a grade-two domestic match in Rawalpindi on Friday.
"I can't bring back the four and half years I lost, but I hope there are still good times to come," he said.
Amir, then aged 18, bowled no-balls at pre-arranged times during Pakistan's tour of England in 2010.
He was jailed for six months and team-mates Mohammad Asif and captain Salman Butt were also jailed and banned for their part in the scam.
Mohammad Amir timeline
26 August 2010: Pakistan start Test match against England at Lord's
28 August: Newspaper makes spot-fixing allegations against some Pakistan players
29 August: Police speak to Amir, Butt and Asif
February 2011: ICC hand lengthy playing bans to trio
November 2011: Trio found guilty in court and given prison sentences
February 2012: Amir released from jail after serving three months of a six-month sentence
October 2013: ICC announce plans to review Amir's five-year ban
28 January 2015: Amir cleared to play domestic cricket in Pakistan
13 March 2015: Plays for Omar Associates in the Patron's Trophy tournament in Rawalpindi
Amir was originally banned for five years but the sanction was reduced in return for his co-operation with the sport's anti-corruption unit.
"There's no point in having regrets, what's done is done," he added, after appearing for Omar Associates against Capital Development Authority in the Patron's Trophy.
"I want to look forward now and not look back. I am thankful that God has given me another chance."
Before his suspension, Amir took 51 wickets in 14 Test matches at an average of 29.09, and 25 wickets in 15 one-day internationals at an average of 24.
"The ICC (International Cricket Council) imposed their ban when I was at the peak of my playing career," he said. "I am trying my level best to get back to where I was."