Cricket World Cup 2015: Scotland send home Majid Haq
Last updated on .From the section Cricket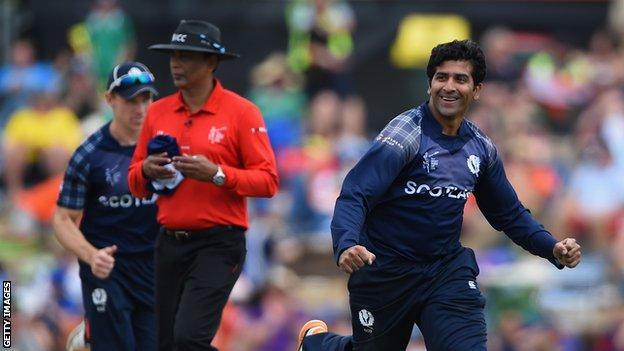 Scotland's all-time leading wicket-taker Majid Haq has been sent home from the Cricket World Cup after posting a race-related tweet.
The post has since been deleted.
Off-spinner Haq, 32, has taken 60 one-day international wickets and also holds his country's appearance record with 209 caps.
High-profile World Cup indiscretions
In 2003, Shane Warne was sent home after testing positive for a banned diuretic.
England's Andrew Flintoff had a drunken run-in with a pedalo during the 2007 World Cup. He was stripped of the vice-captaincy and banned for one match.
Born in Scotland of Pakistani descent, he also scored three ODI half-centuries and opened the batting during the 2007 World Cup.
However, Haq has struggled to make an impression at the 2015 tournament, which is taking place in Australia and New Zealand.
He has collected just three wickets in four matches, while his best score with the bat is 31, made against fellow associate nation Afghanistan.
Scotland have lost all five of their matches - against New Zealand, England, Afghanistan, Bangladesh and Sri Lanka - and have just one game remaining, against Australia in Hobart on 14 March.
Haq took a flight home from Melbourne on Tuesday.
In the last 24 hours, he has also posted the following message on his Twitter account: "Make sure everybody in your 'boat' is rowing and not drilling holes when you're not looking. Know your circle."
Former England off-spinner Vic Marks
"I'm shocked his (Haq) tour should end like this. I understand why any player would be really disappointed about being dropped - it's a horrible feeling, especially if you are a senior player. I can also understand from the Scottish selectors' point of view that four games into the tournament, it was an opportunity to blood a talented young off-spinner and that might be why they took the step to drop Haq. I guess the authorities were left with no real option once he'd delivered his tweet. It was deleted fairly quickly but they had to take pretty severe action, and they did."