Cricket World Cup 2015: Ireland spirit decisive in Hobart win
By Gary Wilson
Ireland wicketkeeper
Last updated on .From the section Cricket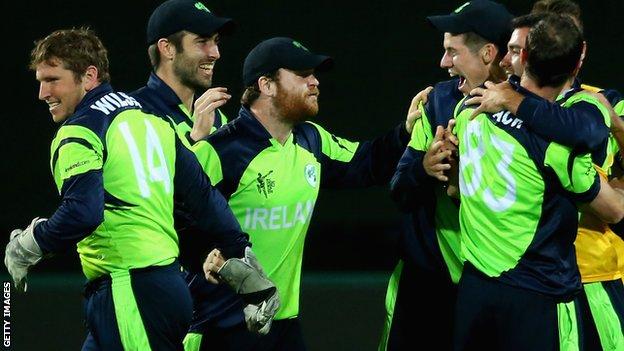 Ireland and Surrey wicketkeeper Gary Wilson reflects on the five-run win over Zimbabwe at the World Cup
I'm not sure anyone's nerves can take it any more. We certainly like to make it close anyway.
I guess most games that we win are going to be close, we are not going to turn up at a World Cup and start wiping teams out.
We rely, first and foremost, on our skill level which has got us this far but I saw a caption on Twitter yesterday - 'Our hearts are bigger than theirs'.
Now, I think it would be a bit much to claim that we care more than any other team we play against but what we do have is a cause and a team with a cause is a very dangerous one.
Our cause is simple. We continually have to prove to the ICC, to the media and in actual fact to anyone that will listen that we deserve to be at the World Cup, so maybe sometimes our hearts are bigger.
On Saturday, it certainly seemed that we wanted to win that game more than our opposition. Maybe that's dangerous and perhaps a little naive to think, but that's the way it came across.
We set the game up beautifully. He won't get much credit but our skipper William Porterfield did a lot of hard yards at the top of the order because without doubt, they had the best of the conditions.
Pool B

Team

Played

Won

Lost

N/R

R/R

Points

Q

India

4

4

0

0

+2.25

8

2

South Africa

5

3

2

0

+1.46

6

3

Pakistan

5

3

2

0

-0.19

6

4

Ireland

4

3

1

0

-0.82

6

5

West Indies

5

2

3

0

-0.51

4

6

Zimbabwe

5

1

4

0

-0.60

2

7

UAE

4

0

4

0

-1.69

0
As the day went on the deck became flatter and a lot easier to bat on. The way he played allowed the likes of Andrew Balbirnie, Kevin O'Brien and myself to come in and play with the freedom that we did.
Again though, it was Ed Joyce who deservedly took all the plaudits. It was a perfectly paced innings, circumspect at the top end before gradually going through his full repertoire of shots.
He is the rock that we base our innings around and it's a rock that when it's going well will strike at over 100 runs per 100 balls.
I was gutted for Andrew Balbirnie when he was run out trying to get back on strike. His innings deserved a hundred but he is showing the world what a good player he is and I have no doubt there will be many more opportunities to come.
We started our bowling innings pretty well again with early breakthroughs. It was when Brendan Taylor and Sean Williams came together that Zimbabwe first started to punch back.
After the game I was talking to a few of the lads and we were saying that the way Taylor played was up there with the best innings we have had against us.
Of course, he was forced to accelerate from the start but he played with ease. No one has played Andrew McBrine better than he did.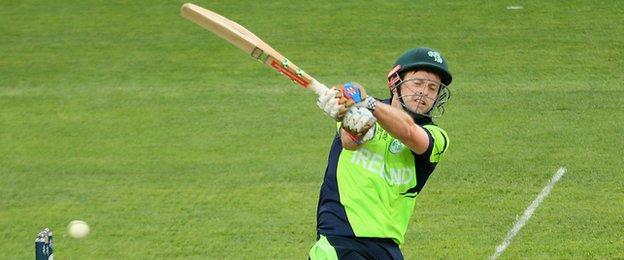 Every single good ball he bowled went for a single which is so frustrating for both bowler and captain. Taylor's departure was the turning point in the match.
Everyone will talk about the Williams dismissal but if Taylor had batted for another six or seven overs the game would have been dead in the water.
On Williams' dismissal, there were commentators in the box who were divided, therefore it can't have been clear.
One person was clear: John Mooney, when he came in to the huddle. "It was close but he's out" was the message. Good enough for us.
The game continued on with its topsy-turvy theme even after Williams got out but it was a credit to our fight, our never-say-die attitude, that we came out on top.
We had more to play for, maybe that had an effect on the outcome.
Realistically, Zimbabwe were already out of the World Cup whereas we knew a win would see us in a good place. With the way the run rates are now, it looks like we will need another win to see us into the quarter finals.
Perhaps before the tournament started we thought that three might be enough.
We will continue to do the right things. Maybe if we beat three full members, maybe if we win four games in the group stage of a World Cup, maybe if we have five of the top 10 chases in the history of the World Cup, maybe then the governing body of the game will actually believe it's not just the top eight teams in the world that provide the best entertainment.