Kevin Pietersen to 'work' on England return
Last updated on .From the section Cricket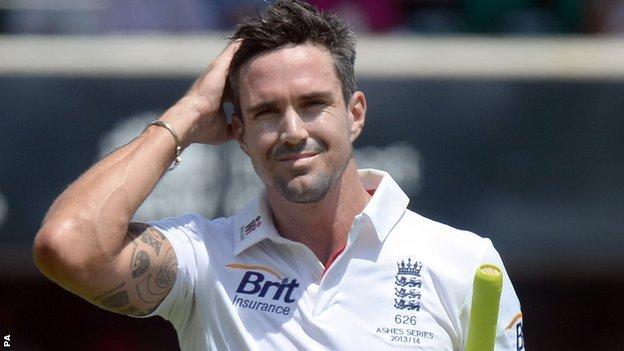 Kevin Pietersen says he is going to "work" on a possible return to the England side.
The batsman, 34, was sacked in February 2014 but has received encouragement that he might be able to make a comeback by incoming England and Wales Cricket Board chairman Colin Graves.
Graves said the first step back for Pietersen was to play county cricket.
Pietersen, who is currently without a county side, said: "I'm going to try to work this out for sure."
The South African-born batsman was excluded from the England set-up after the 2013-14 Ashes series, which Australia won 5-0.
Talk of a Pietersen return has constantly reared its head, but ECB managing director Paul Downton appeared to end any hopes of a comeback following the release of the player's inflammatory autobiography in October, which was critical of many key ECB figures.
National selector James Whitaker also said at the time that there was "no way" Pietersen would ever get back into an England team.
Graves refused to rule out a return for Pietersen during an interview with BBC Radio 5 live's Sportsweek.
He later told the Daily Telegraph that the selectors "can't ignore" Pietersen if he "scores a lot of runs" in county cricket.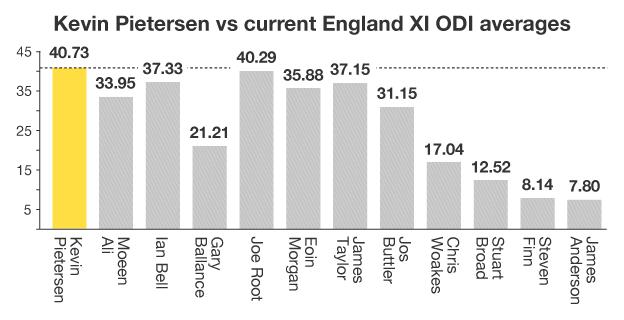 An ECB spokesperson added: "Nothing has changed.
"Only players who are playing consistent high-quality county cricket and who are seen as a positive influence will be selected."
Pietersen's current commitments could make it difficult for him to play in English cricket's domestic competition, which starts on 12 April.
The former Surrey batsman is scheduled to play in the Indian Premier League, which takes place between 8 April and 24 May, and is also due to feature in the Caribbean Premier League, which is being held in June and July.
He may have media duties to fulfil during the summer, too.
BBC Test Match Special summariser and former England batsman Geoffrey Boycott said Pietersen needed to meet with Graves, Downton and Whitaker to resolve his fture.
"It's all right the chairman saying he has to play county cricket," said Boycott, "but if he does that, gives up a lucrative IPL contract and Downton and Whitaker are still not going to pick him, that's like leading him on, isn't it? And that's not fair."
He added: "If Whitaker and Downton can't accept a change of plan or opinion from the chairman, then they have to resign, don't they? It's simple. They have to do what the chairman tells them or go."
Boycott said Graves, the current Yorkshire chairman, was "no fool", adding: "He is very quiet and a nice man but underneath he has got some steel about him."
Meanwhile, England batsman Joe Root said talk of a Pietersen return is "irrelevant".
"If I ever become the chairman of the ECB, then I'll be in a position to comment," he told BBC Sport. "We're in the middle of the World Cup and stuff like that is completely irrelevant to us."
England are enduring a difficult World Cup campaign in Australia and New Zealand, winning just one of their four pool games so far.