Cricket World Cup: Frightened England look restricted - Agnew

By Jonathan Agnew
BBC cricket correspondent
Last updated on .From the section Cricket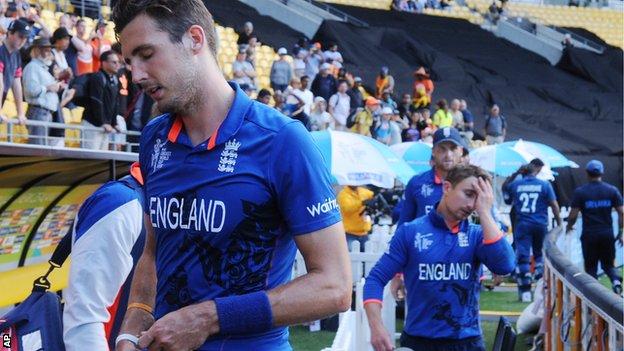 In lots of ways, England's World Cup campaign has been entirely predictable.
We expected them to lose to Australia and New Zealand - perhaps not quite as heavily as they did - and we knew that they would deal with Scotland.
On top of that, and given Sri Lanka's recent good record against England, we were always aware that this fixture would be a very difficult game.
Still, the manner in which England slipped to a nine-wicket defeat, with a target of 310 being chased in 47.2 overs, makes one feel very pessimistic about their chances for the rest of the tournament.
The England team is full of very good cricketers, a lot of whom have had sustained success at international level or have shown lots of promise since they have come into the side.
But I've said for a long time that they look restricted, as if there is a rope tying them to the dressing room.
Whereas other teams play with confidence, freedom and flair, England are frightened to let themselves go.
To be fair, you have to take out some individual performances. Joe Root scored a very good hundred against Sri Lanka in Wellington and was well supported by the likes of James Taylor and Jos Buttler. Similarly, Moeen Ali made a century in the last game against Scotland.
However, lots of players remain out of form.
Gary Ballance, who now has a total of 36 runs in four World Cup innings, should not have played against Sri Lanka.
Captain Eoin Morgan, with 27 from 47 balls, still looks below his best and even Moeen, despite that recent hundred, found a very frustrating way to get himself out, looping the ball to mid-off.
As for the bowlers, Stuart Broad is running in with a better rhythm and Chris Woakes did well before he was eventually taken apart, but Steven Finn continues to be expensive.
England's World Cup bowling averages

O

M

R

W

Av

Econ

Best

Finn

29

3

200

8

25.00

6.89

5-71

Woakes

27.4

1

170

5

34.00

6.14

2-8

Root

8

0

50

1

50.00

6.25

1-27

Moeen

29

0

157

3

52.33

5.41

2-47

Anderson

29

0

182

2

91.00

6.27

2-30

Broad

29.2

1

184

2

92.00

6.27

2-66
The biggest concern, though, is James Anderson. He is down on pace and seems to have lost that "nip" which makes him so dangerous. On occasions like the Sri Lanka game when the ball does not swing, then he can struggle.
England also made problems for themselves. They dropped Lahiru Thirimanne on three and on 98. When you drop the opposition's opener twice, you are asking for trouble.
They also prevented themselves from getting an even bigger score because they did not run well enough.
Pool A table

Team

Played

Won

Lost

N/R

R/R

Points

1

New Zealand

4

4

0

0

+3.59

8

2

Sri Lanka

4

3

1

0

+0.13

6

3

Bangladesh

3

1

1

1

+0.13

3

4

Australia

3

1

1

1

-0.30

3

5

Afghanistan

3

1

2

0

-0.76

2

6
England
4
1
3
0
-1.20
2

7

Scotland

3

0

3

0

-1.73

0
They should be watching the way Kumar Sangakkara - a man who has played 401 one-day internationals - did it.
When he came to the crease it was "drop and run, drop and run". Before they knew it, Sangakkara had a 70-ball century in what was an exhibition of wonderfully controlled one-day batting. It looked effortless.
And so England are in a position which we always feared they would be. They have absolutely no leeway in their final two games against Bangladesh or Afghanistan. If they lose one, or one is rained off, then they are likely to be going out.
Between now and the game against Bangladesh in Adelaide on 9 March, they have an eight-day break in which to improve a bowling attack that cannot defend 310 and a batting line-up that is so inconsistent.
It is a challenge for the coaching staff to work players back to form without simply putting them through endless net sessions. Even sending them to play a club game would be better than net after net.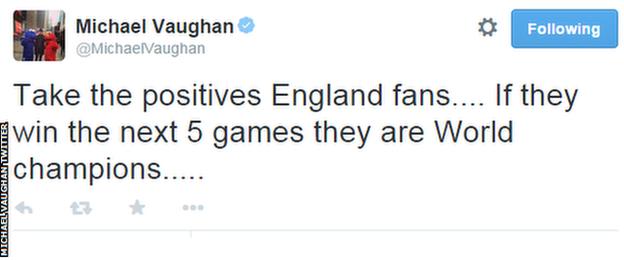 I cannot yet consider the fallout if England go out of the World Cup at the group stage.
Still, it is safe to say that, if the worst should happen, a lot of positions in the team and staff would be up for review - as we are so often told that they are.
England are clearly capable of beating Bangladesh and Afghanistan. They should win both games.
But, it's a brave man who says they will.
Jonathan Agnew was speaking to BBC Sport's Stephan Shemilt.
Listen to highlights from Test Match Special's and 5 live Sport's 2015 World Cup coverage.