New Zealand v Australia: A sneak preview of World Cup final?
By Justin Goulding
BBC Sport
Last updated on .From the section Cricket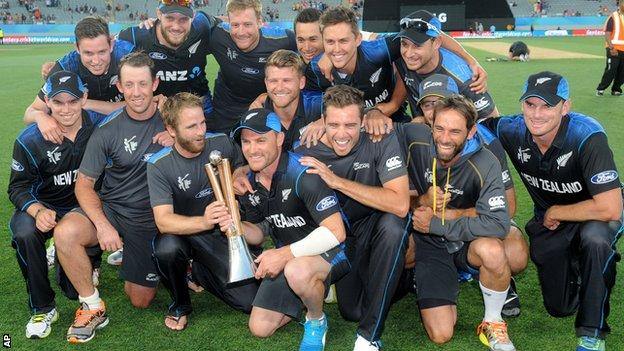 Have we just witnessed the World Cup final a month earlier than scheduled?
But former England captain Michael Vaughan thinks the co-hosts may well find themselves squaring up again in the showpiece in Melbourne on 29 March.
"Think we might get a re-match between Australia and Black Caps #Final #CWC15," he tweeted following a tense finish to a breathless match.
What did Saturday's thrilling encounter tell us about how important the game was, what it said about Australia and New Zealand's prospects, and how it affects England?
The one everyone was waiting for
Australia-England may well be more famous. India against Pakistan was watched by more people. But neither turned out to be much of a contest.
In a competition desperately short of close finishes between the big sides, this Australia v New Zealand encounter was the game we were waiting for.
Unfamiliar foes
Australia and New Zealand have not played a Test since a two-Test series in December 2011
They have not met in a bilateral ODI series since March 2010, with Australia prevailing when they met at the 2011 World Cup, while the sides also met in a rain-curtailed Champions Trophy game at Edgbaston in 2013
They have not faced each other in a Twenty20 international since March 2010
Tournament favourites against the side many predicted will push them closest. The world's number one outfit against the form team in world cricket. Two unbeaten records at stake.
Add in a dash of local rivalry, the fact the countries have not met since 2011, and that the Chappell-Hadlee Trophy was at stake, and it was obvious there were no shortage of incentives.
More than 40,000 fans - the majority of them boisterous Kiwis - crammed into Eden Park to make themselves heard. Even the Prime Ministers had to be there.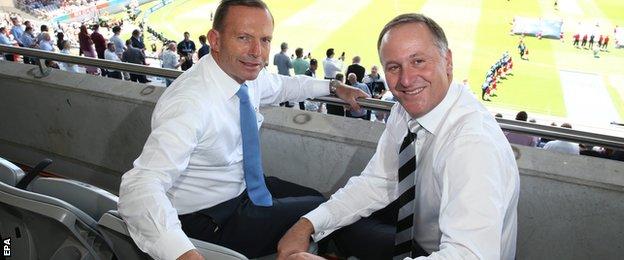 Have New Zealand reached the quarter-finals?
Yes. A fourth win in as many games saw them become the first side to book their spot in the last eight.
Given that New Zealand's remaining two group matches are against Afghanistan and Bangladesh, few would bet against them going through with an unbeaten record.
A higher finish will mean, in theory, a quarter-final tie against a lesser team from Pool B, which could well be West Indies or Ireland.
What's more, if New Zealand finish above Australia in the group - as seems likely - and are drawn against them in the semi-finals, the Kiwis will have home advantage.
"New Zealand are sending a message to the rest of the competition," former Australia captain Allan Border said of their performance with the ball.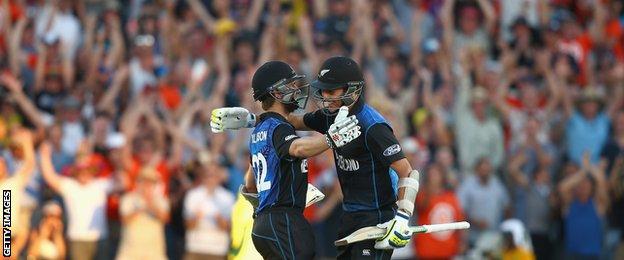 Where does this leave Australia?
With one win, one washout and one defeat from their opening three games, Australia's chances of progressing have not been unduly damaged.
Captain Michael Clarke admitted their batting was "horrendous" against New Zealand, and the numbers back him up: they were bowled out for 151, their lowest World Cup total batting first; lost eight wickets for only 26 runs from the comfort of 80-1; and survived only 32.2 overs in total despite winning the toss on a blameless surface.
"It's a rout," Border said of their batting. "It's embarrassing."
However, the Australians can take heart from the manner in which they almost snatched a remarkable victory thanks largely to Mitchell Starc's career-best 6-28.
Australia legend Shane Warne tweeted: "Mitchell Starc was absolutely outstanding, loved the fighting spirit from all the Australian team."
TMS's Vic Marks, a former England spinner, said: "The Aussies have got a lot out of that game, despite the batting collapse."
It is worth noting that Australia remain the bookmakers' favourites for the title.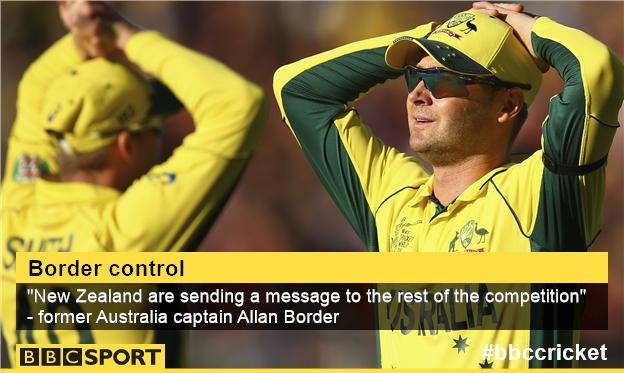 Everyone is in a hurry
Both teams batted like they had a dinner date to attend.
With the lure of straight boundaries so short they did not even meet International Cricket Council regulations, Australia scored 15 runs off the first over of the game, 24 off the first two and 36 off the first three.
Even more incredibly, New Zealand were 11-0 after one ball of their reply, and each of the first three overs contained a four and a six.
The game lasted a meagre 55.3 overs in total yet saw 19 wickets tumble. Patience was very much not a virtue.
As Vic Marks said on TMS: "It's a very strange scorecard. Look at those bowling figures with Mitchell Johnson 6-1-68-0, and Mitchell Starc 9-0-28-6."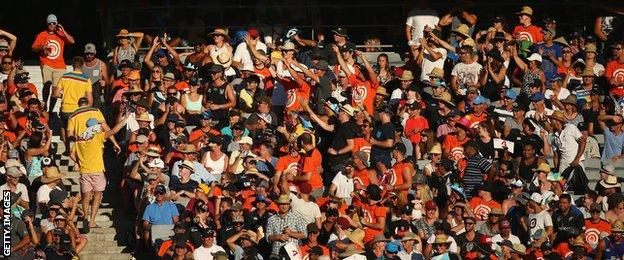 Masterful McCullum
McCullum's assault may have earned more headlines, but it was his captaincy which had a greater influence on New Zealand's victory.
From introducing Daniel Vettori in the seventh over - the spinner removed Shane Watson to spark Australia's collapse of eight wickets for 26 runs - to Tim Southee dismissing David Warner in his first over of a second spell from the opposite end of the ground, and McCullum luring Michael Clarke into driving to one of two short cover fielders, the skipper could do little wrong.
Former New Zealand captain Jeremy Coney told TMS: "He writes his own script. He follows his hunches and he has no set plan to the way he operates.
"He loves to attack and he manipulates his weapons ruthlessly."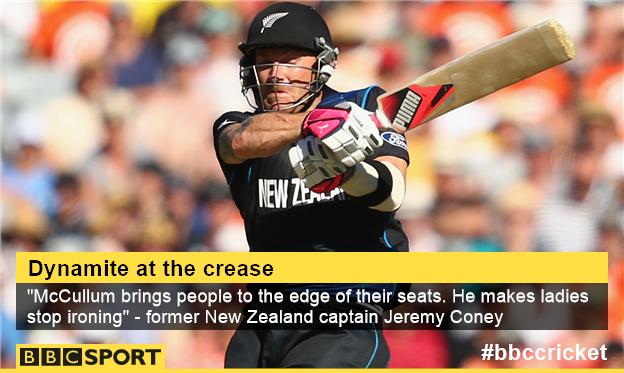 Having hit an 18-ball fifty in the eight-wicket mauling of England, McCullum's 21-ball effort against Australia seemed pedestrian.
"McCullum brings people to the edge of their seats," said Coney. "He makes ladies stop ironing."
Appointed captain in unseemly circumstances in 2012, McCullum is now universally regarded as one of the best skippers in the world.
Under him, New Zealand have won their last nine ODIs - and their only concern is the elbow injury he sustained when he ducked into a Johnson bouncer.
"I'm sure everyone will go home happy," he said. "Sometimes 150 games can be pretty exciting, and everyone can go and have a beer now."
Did you mention Michael Clarke?
Yes, the Australia captain returned to action - his first competitive international since having surgery on a hamstring injury sustained on Test duty in December.
Clarke endured a miserable day with the bat, making only 12 with before falling to an ill-advised drive to one of McCullum's men on the drive.
"A stupid shot. I can't defend that," said former England batsman Geoffrey Boycott on TMS.
His decision to throw Glenn Maxwell the ball brought instant reward, and Clarke appeared to come through his comeback with no ill-effects in terms of fitness.
The psychological damage may be greater.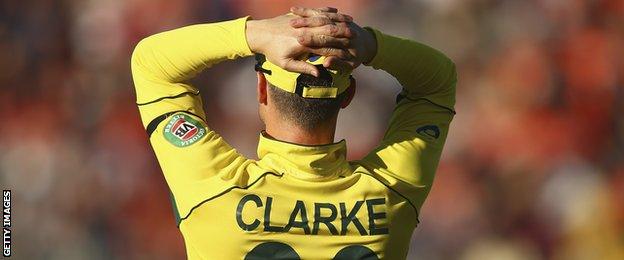 What does all this mean for England?
"This from Australia is making England look quite good," said Boycott before Starc's late burst brightened green and gold spirits.
"I hope the England team are watching this - it will make them feel good."
Within reason. England, who are second bottom of Pool A, lost heavily to both Australia and New Zealand, and Saturday's result in Auckland actually matters little to Eoin Morgan's side, for whom finishing in the top four is a more realistic ambition than making the top two.
Their game against Sri Lanka in Wellington on Sunday (22:00 GMT on Saturday) is a "must-win", according to former spinner Graeme Swann, although defeat will not necessarily end their campaign.
Victory in their final two games - against Bangladesh and Afghanistan - will almost certainly send England into the quarter-finals.
By that time New Zealand and Australia may well already be there.