Cricket World Cup 2015: 'Confidence high for UAE clash'
By Gary Wilson
Ireland wicketkeeper
Last updated on .From the section Cricket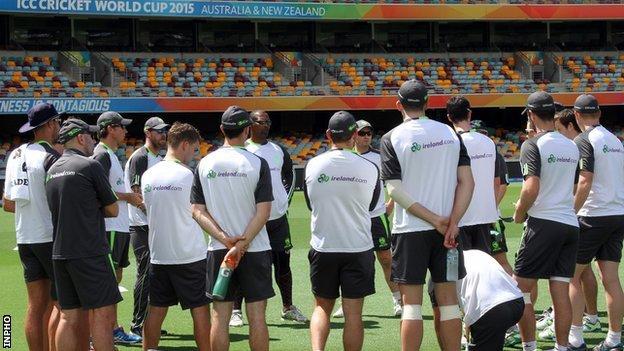 The good news is that we survived the cyclone that passed through Northern Queensland last week.
In all honesty it didn't actually come anywhere near us. The rain that preceded it certainly did though, with 400mm falling in the space of 24 hours.
It just seemed endless! It meant our two days of relaxation on the Gold Coast became slightly hampered. We spent most of the time in our hotel rooms.
It was unfortunate because Broadbeach, where we were staying, looked like a seriously nice spot.
We travelled up to Brisbane last Thursday and the rain was actually worse there than on the Gold Coast. but we weren't going to let that get in the way of our training.
We were scheduled to train for two days at the National Cricket Centre. At the time of organising they probably assumed that it would be in the outdoor facilities, but with all the weather around we were obviously forced indoors.
It is without doubt the best indoor facility I have been at. It has everything from a 25m pool to a dining room for players with their own kitchen, and includes a five-lane indoor centre and a gym in between.
Everything is absolutely state-of-the-art. Training indoors is never ideal but it actually gave us an opportunity to work on some things that, had we been outside, we might not have been able to do.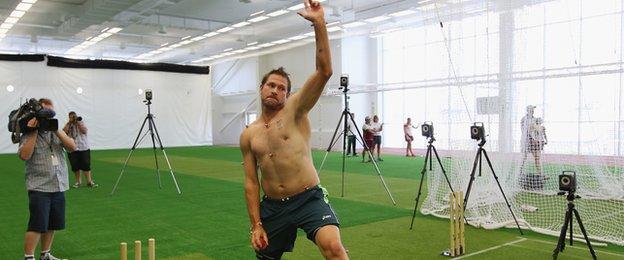 That sounds strange but it gave bowlers the opportunity to do a lot of target work, whether that be hitting yorkers at the death or making sure their natural length was nailed on.
If we had been outside it is just natural for our bowlers always to be bowling at a batter, and quite quickly everything is judged on where the batter hits the ball.
Being indoors gave them the opportunity to strip everything back and focus solely on the process rather than the outcome. It was a really worthwhile couple of days.
We then had another day off - these are now as important as our training days. It just gives us the opportunity to get away from the cricket side and recharge the batteries. It is a long tour and we need to stay fresh.
We go into Wednesday's game against the United Arab Emirates full of confidence after beating the West Indies, but we are not complacent.
I said before that this now becomes the most important game of our World Cup - if we get through this one with a win, then the next game becomes the most important and so on.
Ireland's remaining Pool B fixtures

Date

Opponent

Venue

Wednesday, 25 February

United Arab Emirates

Brisbane (Aus)

Tuesday, 3 March

South Africa

Canberra (Aus)

Saturday, 7 March

Zimbabwe

Hobart (Aus)

Tuesday, 10 March

India

Hamilton (NZ)

Sunday, 15 March

Pakistan

Adelaide (Aus)
It sounds very cliched but we can't take our eye off the ball. We came to this World Cup to win games and this is another game and another opportunity.
The support we have had from influential cricket people has been amazing. Lots of commentators, pundits and journalists are right on board that future World Cups should not be a closed shop.
I think that is credit to the way we have played our cricket, not just against the West Indies but in previous tournaments as well.
These guys have seen that with more exposure comes more consistency of performance. The other nations outside of those who play tests at the minute will also benefit from the exposure.
We'll keep fighting our corner but for the minute we will be concentrating on fighting our corner at the Gabba against the UAE.