Cricket World Cup 2015: England too predictable - Michael Vaughan
Last updated on .From the section Cricket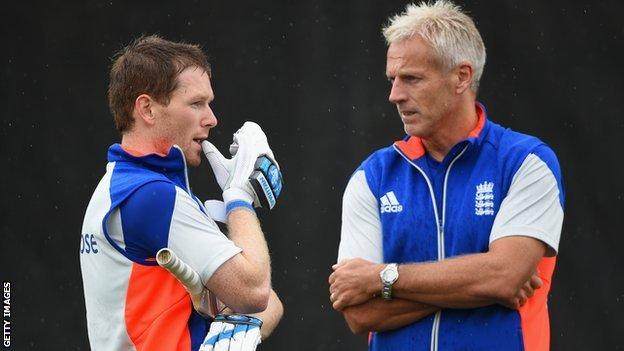 Former captain Michael Vaughan says England are too predictable and need to adopt more aggressive tactics to succeed at the World Cup.
After heavy defeats by co-hosts Australia and New Zealand, England won their first game of the tournament by beating Scotland by 119 runs in Pool A.
"After the [Scotland] game [captain] Eoin Morgan said they are flexible," Vaughan told BBC Radio 5 live.
"No, they're not. They are set in stone the way they are going to play."
England scored only 131 runs in the final 20 overs against Scotland and Vaughan wants to see Nottinghamshire's Alex Hales - the first England player to score a Twenty20 century - given a chance to bat at number three rather than Yorkshire's Gary Ballance, to improve the scoring rate.
Speaking on the Tuffers and Vaughan show, he added: "England are very, very predictable and if they're not careful this World Cup will be like most pundits have said with a predictable outcome.
"They will get to the quarter-finals - just - and then play a powerhouse like India at the MCG and it will be same old, same old, same as the last World Cup and same as the one before."
Pool A

Team

Played

Won

Lost

N/R

R/R

Points

1

New Zealand

3

3

0

0

+3.59

6

2

Australia

2

1

0

1

+2.22

3

3

Bangladesh

2

1

0

1

+2.10

3

4

Sri Lanka

2

1

1

0

-0.86

2

5

England

3

1

2

0

-1.42

2

6

Afghanistan

2

0

2

0

-1.18

0

7

Scotland

2

0

2

0

-2.74

0
He said England were struggling to keep up with other teams.
"One-day cricket has moved on. It's almost like they are swimming with armbands on," he said,
"Everyone else is taking on a different leap, with more power, more aggression and more freedom.
"I know it's hard when you've just been beaten badly. You just want to win, you want those two points and they got them and that's a huge credit.
"But they aren't going to go far if they don't change their approach, particularly with that number three. They need a Hales type to give it a good old launch."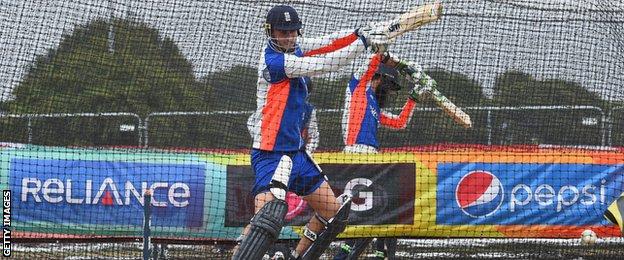 England are fifth in their group after three matches with the top four going into the quarter-finals.
Their next game is against Sri Lanka in Wellington on Saturday and former England spinner Phil Tufnell also wants to see a more positive approach.
"I just think there's muddled thinking about how to progress this England side in one-day cricket because's it changed vastly," Tufnell said.
"England haven't gone forward. I just don't see where they are moving forward. Where has all this preparation got them? It's got them nowhere.
"They just seem a little bit dull when they play one-day cricket."