World Cup 2015: England win at last - Geoffrey Boycott's verdict
Last updated on .From the section Cricket
England finally got their 2015 World Cup campaign off the ground with a 119-run victory over Scotland in Christchurch.
Coming after the humblings by Australia and New Zealand, the victory brings huge relief to England captain Eoin Morgan and lifts the team's chances of reaching the quarter-finals.
England's biggest World Cup victory for 40 years in terms of runs featured a sizzling 128 from Moeen Ali, a rapid 46 from the skipper and three wickets for a much-improved Steven Finn.
And yet the ongoing struggles of Gary Ballance, Joe Root and Stuart Broad suggest there is still plenty for the team to work on.
Here, Test Match Special pundit Geoffrey Boycott delivers his verdict on the match.
Banana skin avoided
"I thought it was a very good, competent performance by England, very professional," said Boycott. "It was a potential banana skin. Put in to bat, if England had lost three wickets for 50 there would have been some real jitters in the dressing room after being mauled by New Zealand and Australia, but it never happened.
"On another day when confidence is high they would probably have got another 30 or 40 runs. But from being nervous and under pressure, with no points, 300 is pretty good.
"This was a step on the ladder, only a small step, but a win is a win. You take it, go away with great relief and have a good night's sleep."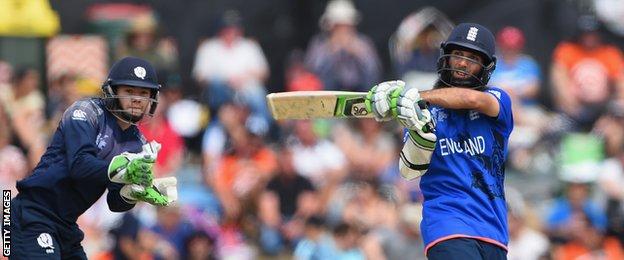 Shots like Sobers
Moeen scored his second ODI century and took the lead role in a 172-run opening stand with Ian Bell, England's highest first-wicket stand in World Cup history.
The Worcestershire left-handed batsman also took 2-47 with his off breaks to complete an excellent all-round display.
"Moeen batted beautifully," said Boycott. "He made it look as if it was the flattest pitch of all time, but it wasn't. Ian Bell had to graft and work hard for his half-century when normally he's the most fluent of players.
"Fortunately, at the other end, Moeen made it easy for him to still make runs because he played so fluently and effortlessly. He was playing shots like Garry Sobers. Lofted drives, cover drives and pulling anything short. Within 40 minutes he had taken the game away from Scotland."
Test Match Special statistician Andrew Samson
It was England's largest victory margin by runs in a World Cup match since they beat East Africa by 196 runs at Birmingham in 1975.
Moeen and Ian Bell's 172-run stand was the highest opening partnership of the 2015 World Cup
Ballance not right
Despite the manner of the losses to Australia and New Zealand, England picked the same team for the third match in succession.
However, Gary Ballance struggled again at number three - he has scored exactly 10 in all three of his innings - and Joe Root was caught behind for one.
"I'm not for Ballance at number three," said Boycott. "Alex Hales should open and Bell should bat at number three and then move on from there. If I was Hales I would be asking for my ticket to go home. He should be playing one-day cricket because he's better than Ballance.
"You don't have time up front in modern one-day cricket. Most teams have people who can score boundaries high up. You can't pinch singles with so many in the circle, so you need a type of player who can hit boundary shots.
"You have Aaron Finch and David Warner for Australia who both play shots. They may get out occasionally, but if they get in they take the game away from you and they give their team momentum. They are match-winners. New Zealand's Brendon McCullum is the same, look how he smashed our team out of the park. That is the way to go up front now."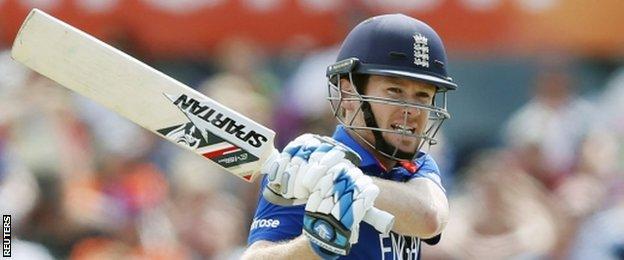 Sparkling innings
One significant positive for England was the sight of Morgan spending time in the middle.
The beleaguered captain, who had managed only 19 in his previous five innings, cracked 46 off 42 balls to give England impetus just when the pace of the innings seemed to have dropped.
"The great thing I liked about Morgan coming in was that was that by the time he got in there weren't many overs left," said Boycott.
"That's where I think he's at his best, as a finisher. When he is lower down the order, coming in with not many overs left, the field is spread. He can hit sixes and find the gaps. He has lovely hands, sweet timing and is quite inventive. He reminds me of Michael Bevan. It was a sparkling innings."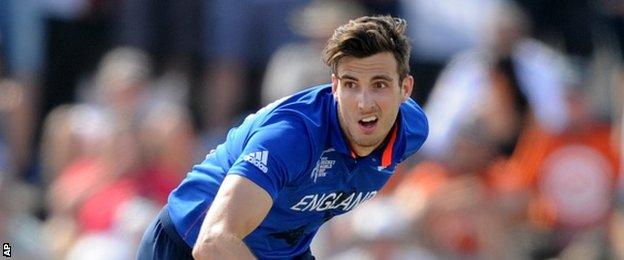 Finn finds form
After being taken apart by McCullum, Finn bounced back with an impressive display against the Scots. His figures of 9-3-26-3 reflect a performance in which he starved the Scottish batsmen of width, varied his length to good effect and carried a constant threat.
There were two wickets apiece for Woakes and Anderson but Stuart Broad went wicketless for the second game in a row.
"Finn's line and length was very good," said Boycott. "He was squeezing the Scotland players back and they couldn't score off him.
"In terms of pace, he's never quite got back to what he was. When he came in he looked such a great prospect, being so tall with a high action. He's still got a bit of bounce but the pace isn't there.
"I think Stuart Board has lost confidence batting because of Mitchell Johnson winging round his ear hole and then getting hit in the head last summer. Bowling wise, he needs some bowling because he has been out for a long time with injury. He just needs more overs."
How's stat?
Scotland's Matthew Cross now has 28 dismissals in 13 ODIs as keeper. His dismissals per match rate of 2.16 is the highest of anyone with 25 or more dismissals.
Worse than club bowlers
Scotland have now lost all 10 of their World Cup matches, equalling an unenviable record previously held solely by Netherlands.
Boycott was in no doubt as to where their problems lie.
"Scotland need to improve their bowling," he said. "They can't bowl at medium pace like that. I could have gone in and got runs against that. It is not good enough at this level. Scotland weren't even good club bowlers.
"If you are only medium pace your line and length has to be spot on, but they couldn't do it. They had to be disciplined, but they weren't and Moeen Ali took them apart."
Pool A

Team

Played

Won

Lost

N/R

R/R

Points

1

New Zealand

3

3

0

0

+3.59

6

2

Australia

2

1

0

1

+2.22

3

3

Bangladesh

2

1

0

1

+2.10

3

4

Sri Lanka

2

1

1

0

-0.86

2

5

England

3

1

2

0

-1.42

2

6

Afghanistan

2

0

2

0

-1.18

0

7

Scotland

2

0

2

0

-2.74

0
In with a chance
England's next match is against Sri Lanka in Wellington on Saturday before meetings with Bangladesh and Afghanistan.
Two wins should be enough for Morgan's men, but they may yet need to win all three matches to guarantee qualification for the quarter-finals.
"England will wake up tomorrow relieved," said Boycott. "They have been under pressure. They have played way, way below par. They will now feel better about themselves and feel they are in with a chance.
"All they have to do is win a couple more matches and get through to the quarter-finals. I think they have a good chance of beating Sri Lanka as I don't think they are the force they used to be.
"The key for England is for individual players to help the captain by playing to their potential."