World Cup 2015: England bowling tactics must improve - Moores
Last updated on .From the section Cricket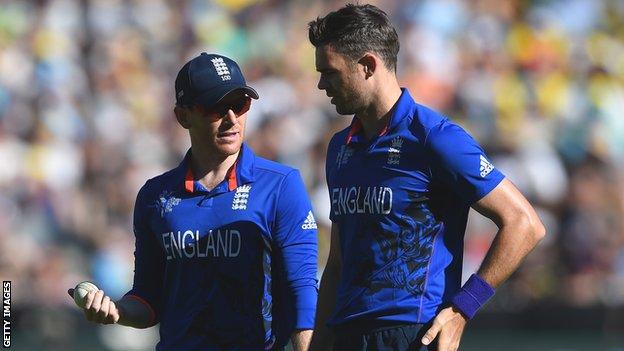 England must rethink their bowling tactics to revive their World Cup hopes, admits coach Peter Moores.
An over-reliance on short, slower balls backfired as Australia hammered 105 off the final 10 overs of Saturday's 111-run victory in Melbourne
"It's something we will definitely review," Moores told BBC Sport. "If we can get that area better it's going to make a significant difference."
England face co-hosts New Zealand in their next Pool A match on Friday.
Bowling in the closing stages of a one-day innings has been a problem for England for some time.
In all ODIs between January 2014 and the start of the World Cup, England conceded an average of 47.73 runs in the final five overs when bowling first. Australia gave away 36.40 and New Zealand 33.33.
In the recent tri-series final in Perth, England undid a lot of their good work by allowing Australia to score 104 runs off the last 11 overs, and eventually slumped to a 112-run defeat.
Saturday's World Cup opener followed a similar pattern as England's seam quartet - bowling mostly short deliveries - were dominated by Glenn Maxwell and Brad Haddin.
Moores said the players and coaching staff had reviewed footage of the match and would be making an effort to pitch the ball up in future.
"We didn't get it right at the end of the innings," he said. "The yorker is a very good ball at the end of the innings and some players are better at doing it than others.
"It's something we're working very hard to get better at as quick as we can. We didn't win or lose the trophy but we've got to win enough games to get through to the knock-out games and by that stage be playing well enough to beat any side."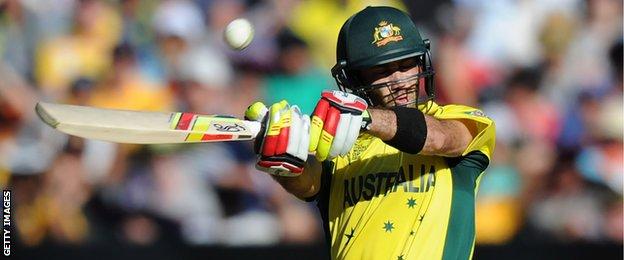 England's biggest concern in the batting department is the form of captain Eoin Morgan, who made his third duck in four ODI innings in Melbourne.
Moores said Morgan has the character to respond to the pressure on the game's biggest stage.
"Of course he's very disappointed, but he's got to back himself as a player who's played at this level for a long time and been successful," he added.
"Anybody that's played anything at top-flight level knows you get challenged at times. Eoin is strong as a character and he'll prepare up for Friday and get ready to put himself out there to try and win a game for England."
Former coach Ashley Giles said England's problems stretch well beyond the captain's form.
"England were saying all the right things but just got bullied by Australia," he told Sportsweek on BBC Radio 5 live.
"The senior players need to stand up and take responsibility. You might be able to bully the minnows but against the big teams you need big performances throughout the team.
"We are all saying 'just get to the quarters' but the way we are going we need to build some confidence. If we get to the quarters playing like this we are not going to go much further."