Sunil Narine: West Indies spinner withdraws from World Cup squad
Last updated on .From the section Cricket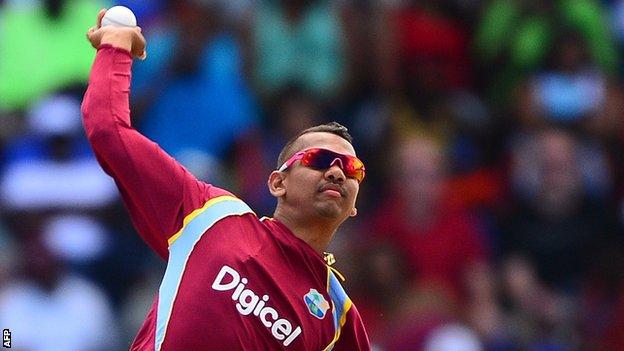 West Indies off-spinner Sunil Narine has withdrawn from the forthcoming World Cup as he needs to spend more time remodelling his bowling action.
A replacement will be named shortly.
Narine, 26, was twice reported for a suspect action in September and October while playing for Kolkata Knight Riders in the Champions League Twenty20.
That caused him to be barred from bowling in the CLT20 final, but as that event is governed by the Board of Control for Cricket in India, it did not affect his participation in international cricket.
However, the WICB has not selected him for any international matches since then, amid fears that his action might be reported to the International Cricket Council (ICC) which has the power to suspend him from bowling.
"For both West Indies and my sake we have decided to delay my return to international cricket until I am 100% confident in all that I do," said Narine, who helped Trinidad and Tobago win the domestic Super50 competition at the weekend.
The World Cup, co-hosted by Australia and New Zealand, begins on 14 February, with West Indies' first match against Ireland in Nelson two days later.
However, it means the top two bowlers in the ICC's one-day international bowling rankings - Pakistan off-spinner Saeed Ajmal, who remains suspended from bowling from the ICC for a suspect action, and Narine - will miss the showpiece 50-over world event.
Aside from Ajmal, eight other off-spinners have been reported to the ICC for illegal actions in the last 14 months.
Off-spinners under ICC scrutiny

Marlon Samuels
West Indies
Reported in November 2013; cleared in December 2013 (but banned from bowling quicker deliveries)

Shane Shillingford

West Indies

Reported in November 2013; suspended in December 2013; cleared to return in March 2014 (but banned from bowling doosra)

Sachithra Senanayake
Sri Lanka
Reported in June 2014; suspended in July; cleared to return in December

Kane Williamson

New Zealand

Reported in June 2014; suspended in July; cleared to return in December

Saeed Ajmal
Pakistan
Reported in August 2014; suspended in September

Prosper Utseya

Zimbabwe

Reported in August 2014; suspended in October; cleared to bowl seam in December (but banned from bowling off-spin)

Sohag Gazi
Bangladesh
Reported in August 2014; suspended in October

Malcolm Waller

Zimbabwe

Reported in November 2014; suspended in December

Mohammad Hafeez
Pakistan
Reported in November 2014; suspended in December