Heather Knight column: 'England could benefit from Aussie set-up'

By Heather Knight
England vice-captain
Last updated on .From the section Women's Cricket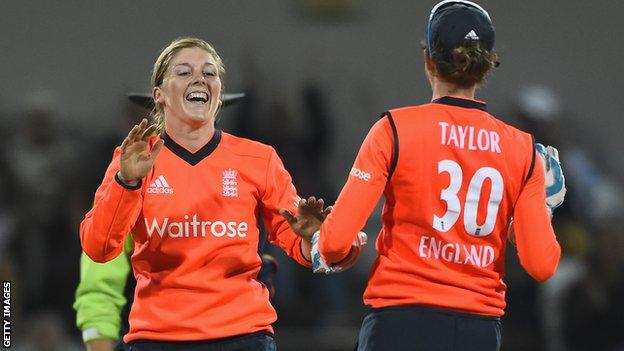 With the rare occurrence of a quiet winter in terms of international fixtures for England, I jumped at the chance when the opportunity came up to play women's state cricket in Australia.
So I've been living the life of a professional cricketer playing for the Tasmanian Roar in the Australian Women's National Cricket League (WNCL) and Women's Twenty20 (WT20) over the last two months.
My England team-mates Charlotte Edwards and Sarah Taylor have also been playing for different states.
So what are the differences between women's domestic cricket in Australia and England?
How the WNCL and WT20 work
Seven state teams, aligned with the men's teams - ACT Meteors, New South Wales Breakers, Queensland Fire, South Australian Scorpions, Tasmanian Roar, Victorian Spirit, Western Fury
Two Twenty20 matches and one 50-over game played over a weekend against the same opposition
Retainers and match fees paid to players
Professional support through coaching, nutrition, strength & conditioning etc
Some WT20 matches played as double-headers with the men's Big Bash competition
With all the players condensed into seven state teams in Australia, compared with 40-odd county teams in England, there's bound to be a few differences.
Although the majority of the top players play in Division 1 of the Women's One-Day Cup back in England (made up of nine counties), where I play for Berkshire, it's fair to say the standard is just below the state competition out here.
But for me, it's the set-up off the pitch that is really where the biggest differences lie. All of the state teams in Australia are strongly aligned with the men's, and the girls have everything at their disposal to train like professional cricketers (by nature, if not officially by name!).
I've spent pretty much every day since arriving in Tasmania at the Blundstone Arena in Hobart hitting balls and working on my game - something I'd be doing back home as an England cricketer, but not if I were purely a county player.
Australian state players also receive a retainer and match payments. Although the fees are by no means enough to break the bank, they add a professional flavour and work to keep a lot more players in the game for longer - naturally strengthening the competition.

Heather Knight factfile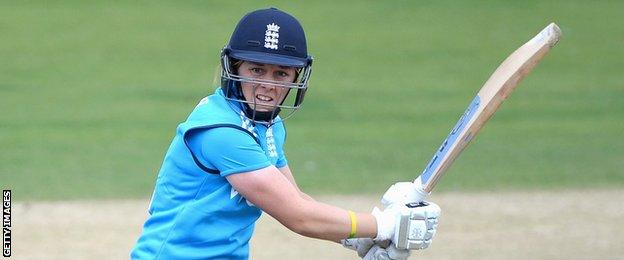 Born:

Rochdale, 26 December 1990

Role:

Right-handed batter, off-spin bowler

England debut:

2010 (vice-captain since 2014)

Tests:

4 matches, 198 runs (average 24.75), highest score 157

ODIs:

44 matches, 912 runs (av 29.41), HS 72

T20 internationals:

20 matches, 168 runs (av 12.92), HS 29

I keep telling the girls out here how lucky they are that they have all of this support at their disposal, and can only think how much some of the younger girls coming through in England would benefit from this set-up from an early age.
Whilst the women's county game in England is a bit behind the WNCL and WT20 in Australia, we do have a brilliant England Women's Academy system, which has seen a number of players, including myself, graduate to full England colours.
But with the pace at which the international women's game is developing, through professional contracts etc, the last thing anyone wants is to see is the gap between international and county cricket widening, and the state competition here in Australia seems to have that covered.
There have also been whispers of a Women's Big Bash (directly mirroring the men's Big Bash League) planned for next year, which is massively exciting and a competition in which - international commitments aside - I would love to play, as I'm sure many of my England team-mates would.
I've got two more weeks in Australia now before I head back to England to join up with the England girls again.
I've loved my time out here, but I'm looking forward to getting home and then pulling on an England shirt again in February, when we play a five-match one-day international and three-match T20 international series in New Zealand.