Pakistan cricket donate proceeds to Peshawar massacre victims
Last updated on .From the section Cricket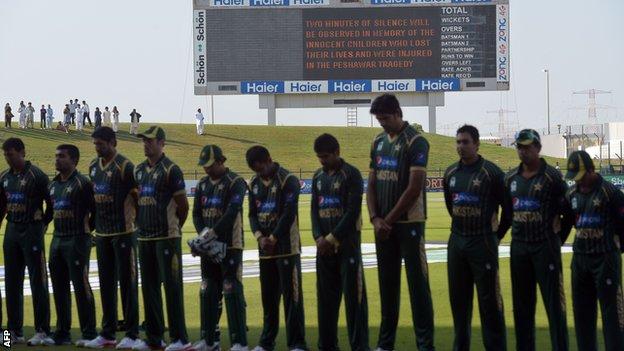 Pakistan will donate all proceeds from Wednesday's one-day international with New Zealand to the victims of this week's Peshawar school massacre.
The Pakistani Taliban attacked the Army Public School in the city on Tuesday, which resulted in at least 141 deaths.
The Pakistan Cricket Board tried to postpone the match but said they were "constrained" by media commitments.
New Zealand won the fourth one-day international by seven runs, with Kane Williamson hitting 123 off 105 balls.
Pakistan have played most of their "home" matches in the Middle East since 2009, when a bus carrying the Sri Lanka team on its way to play in Lahore was attacked by gunmen.
"We are playing outside Pakistan only because of the threat of terrorism at home," said the PCB spokesman, who added that black armbands would be worn by the players in Abu Dhabi on Wednesday.
"If we allow terrorists to disrupt our matches abroad, then all will be lost."