Glamorgan academy targets Asian and female success

By Nick Webb
BBC Sport Wales
Last updated on .From the section Cricket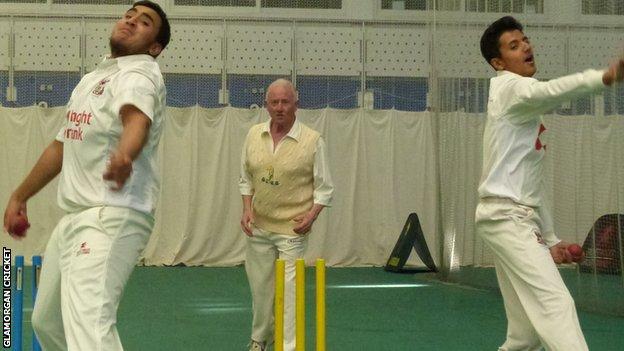 Glamorgan are hoping their Academy class of 2015 could help produce the first Welsh Asian professional cricketers as well as the first Welsh women professionals.
A group of 17 youngsters, including five teenage girls, are having weekly sessions through the winter as the county look to improve their recent record of producing their own home-grown talent.
Although they've boasted overseas stars such as Sourav Ganguly, Waqar Younis, Ravi Shastri, Javed Miandad and Majid Khan, Yorkshire-born Ismail Dawood is the only British Asian to have worn the daffodil in first-team county cricket.
Sixteen-year-old Prem Sisodya is one of those hoping to change that, which is why I meet up with the softly-spoken young spinner as he forgoes a Sunday lie-in for three hours of coaching.
Prem started playing in his back garden with his father but joined Cardiff cricket club aged seven, playing for their under-nines, and has never looked back.
He has represented Wales from under-11's up to under-17's as well as taking dozens of wickets for Cardiff's first team as they did the South Wales Premier League and Cup double.
"It's been a good experience with Cardiff, though it was a big change playing first team cricket," he said.
"I'm one of the youngest players in the league, there's myself and Muj (fellow academy member Mujahid Ilyas) and a few other youngsters."

"We're having to work harder than we've ever worked before. There's a lot more fitness and a lot more on the mental side rather than just playing cricket.
"When you get brought into things like this you do tend to think about it (becoming a professional player) but my aim for now is to carry on playing well for Cardiff, work hard in these sessions and hopefully progress into the Glamorgan twos (second team) next summer."
What about role-models? "People from India like Virat Kohli, I enjoy watching them play and my dad used to play back in India. It would be a good achievement (to become the first Welsh Asian pro), something to be proud about but there's a long way to go and a lot of hard work.
"It would be good for other (Welsh Asian) people to try and follow in my footsteps if it did happen- but if it didn't, it's important to keep up (my studies) as well, you have to work hard in school!"
Glamorgan's Head of Talent Development Richard Almond knows there's a big potential pool of talent on the playing fields of Wales.
"In the past we've had a couple (of Asian players) through the academy," Almond said.
"But no-one's gone on to professional cricket from an Asian background in Cardiff, so hopefully we can get one of these two playing for Glamorgan.
"Our community office is really pushing hard to engage with that (Asian) playing population and hopefully over the next few years we'll see more and more of them becoming involved."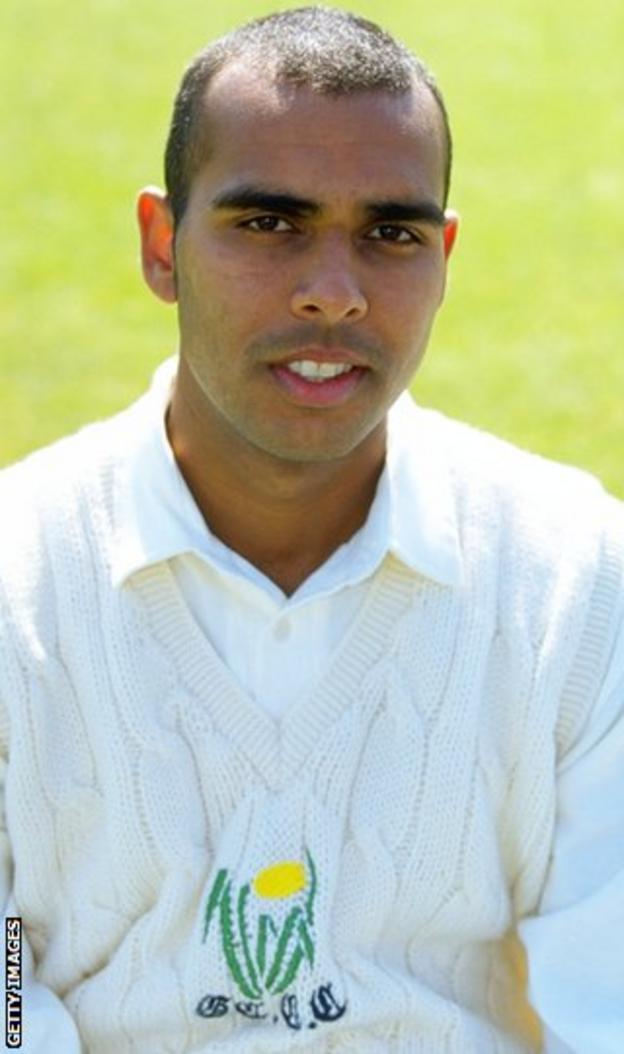 Meanwhile 13-year-old Jess Thornton can also have dreams of being a professional after the ground-breaking move by the England women's team to go full-time.
"I want to make it my full-time job with coaching as well as playing the game," she said.
Almond is backing the move: "Certainly women's cricket in Wales and throughout the UK is growing quickly and having England players on professional contracts offers hope for the girls that are starting to come through the academy now, that they can have a career in cricket.
"There are some really talented girls in our academy, hopefully we'll see some of them playing for England in the future."
The Glamorgan girls have already trained with England's Cardiff University product Heather Knight, while England captain Charlotte Edwards is Jess's other female role model.
But it's the brash Australian legend Shane Warne that she turns to as a player to copy. "Because I'm a leg-spinner as well, he's one of the most famous leg-spinners so I take tips from his master-classes to progress."
Starting with her local club Tondu, alongside brother and fellow academy member Scott, she moved to Newport to join a girls' section.
Since then she's played for Wales age-group sides before joining the England development set-up at under-15 level with sessions in the same Loughborough venue as the senior teams.
"It's the same as the Glamorgan Academy but a step further with coaching specialists, one-to-ones, nutrition and things like that" she added.
So why cricket in the first place? "The competitiveness of everyone around you and the encouragement that everyone gives you when you're doing well!"
As bowlers, both Jess and Prem are out to prevent boundaries - but a hard winter's work could see them pushing boundaries as well come the summer.