Sachithra Senanayake & Kane Williamson cleared to bowl again
Last updated on .From the section Cricket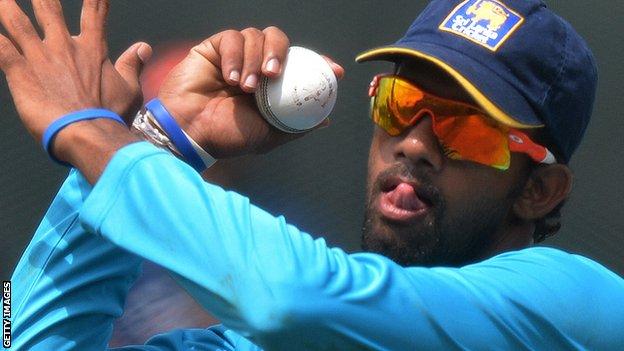 Sri Lanka's Sachithra Senanayake and New Zealand's Kane Williamson, both off-spinners, have been cleared to bowl again after remodelling their actions.
Senanayake remodelled his action after he was banned following a one-day international against England in May.
The 29-year-old has now been added to Sri Lanka's squad for the current ODI series against England.
He replaces left-arm spinner Rangana Herath, who was injured at practice on Tuesday, with the fifth ODI taking place at Pallekele on Wednesday.
Sri Lanka beat England on Sunday to open up a 3-1 series with three matches to play.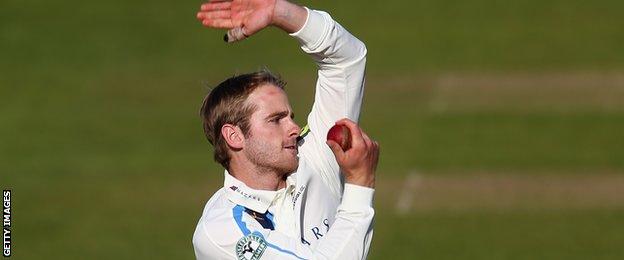 Bowlers are not allowed to straighten their arm by more than 15 degrees as they deliver the ball.
"Since being reported earlier in the year, both bowlers have remodelled their bowling actions prior to applying to have their actions re-tested," said the ICC in a statement.
"The results showed that the level of elbow extension measured for all deliveries bowled was now within the 15-degree level of tolerance permitted under the ICC regulations."
All-rounder Williamson has taken 24 wickets in 37 Tests while Senanayake, who has played in one Test, has 40 wickets in 37 ODIs.
Nine off-spinners have been reported to the ICC for illegal actions in the last 13 months, along with Bangladesh seamer Al-Amin Hossain, who was cleared following tests.
Off-spinners under ICC scrutiny

Marlon Samuels
West Indies
Reported in November 2013; cleared in December 2013 (but banned from bowling quicker deliveries)

Shane Shillingford

West Indies

Reported in November 2013; suspended in December 2013; cleared to return in March 2014 (but banned from bowling doosra)

Sachithra Senanayake
Sri Lanka
Reported in June 2014; suspended in July; cleared to return in December

Kane Williamson

New Zealand

Reported in June 2014; suspended in July; cleared to return in December

Saeed Ajmal
Pakistan
Reported in August 2014; suspended in September

Prosper Utseya

Zimbabwe

Reported in August 2014; suspended in October

Sohag Gazi
Bangladesh
Reported in August 2014; suspended in October

Malcolm Waller

Zimbabwe

Reported in November 2014

Mohammad Hafeez
Pakistan
Reported in November 2014; suspended in December