Phillip Hughes: ICC chief says action on bouncers is 'unlikely'
Last updated on .From the section Cricket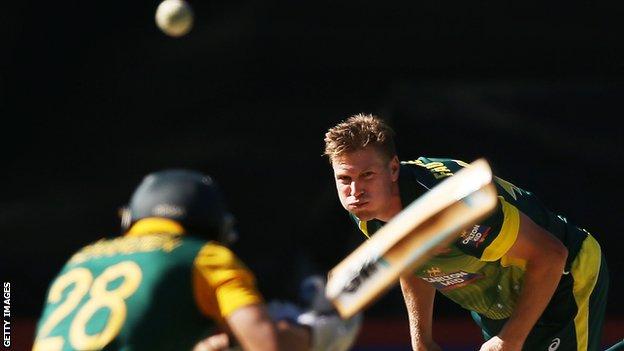 Action is unlikely to be taken to restrict bouncers despite the death of Phillip Hughes, according to David Richardson, the chief executive of the International Cricket Council (ICC).
Hughes died on Thursday, two days after he was struck on the neck by a short ball delivered by Sean Abbott in a domestic game in Australia.
But Richardson said any clampdown on bouncers was "unlikely".
He told BBC 5 live's Sportsweek: "We need to try and keep our perspective."
Bowlers are currently permitted to deliver two bouncers per over in Tests and one-day internationals, and one per over in Twenty20 internationals.
Asked if there was any prospect of further curtailing the use of the short ball, Richardson said: "It's a bit early to determine, but my initial reaction is that that's unlikely.
"People have died by being struck on the heart before. I don't think cricket needs to overreact, but do what we can."
Former England fast bowler Bob Willis on Sportsweek
On bowler Sean Abbott: "It's going to be something that haunts him every day for the rest of his life. It's not something that you can put out of your mind. It's a burden that he's going to have to bear."
Former Australia wicketkeeper Adam Gilchrist also defended the use of bouncers, describing them as "part and parcel of the challenge between bat and ball".
He suggested that helmet modifications would be a more feasible change for cricket to consider.
"I guess we could extend the helmet a little bit further down the back of the neck," he told the programme.
"We've always thought it it is maybe the temple, the cheekbones, the skull itself that we needed to protect - and that still remains - but now we are going to look at any ways of curtailing blows to the neck."