Phillip Hughes death: Australia v India Test delayed
Last updated on .From the section Cricket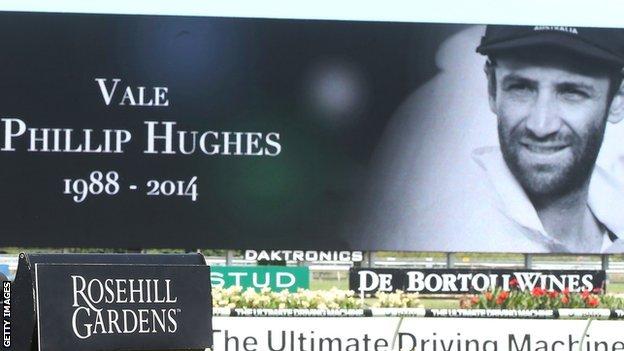 The first Test between Australia and India has been delayed following the death of Phillip Hughes.
The match in Brisbane was due to begin on Thursday, but will be rescheduled after it was announced that Hughes's funeral will take place on Wednesday.
The 25-year-old died after being struck on the neck by a bouncer.
"We simply couldn't or wouldn't expect our players to be emotionally ready to start a Test," said Cricket Australia chief executive James Sutherland.
"Their welfare is our absolute priority. They are grieving and to expect that they could play a high-pressured, five-day Test match the following day is out of the question."
Hughes, who played 26 Tests for Australia, died last Thursday, two days after being struck by a bouncer while batting for South Australia against his former team, New South Wales, in a Sheffield Shield match in Sydney.
His funeral will take place at 03:00 GMT on Wednesday in his family's home town of Macksville in northern New South Wales.
The service - in the sports hall of Macksville High School, which he attended - will be broadcast live in Australia and on big screens at the Sydney Cricket Ground and Adelaide Oval, the home grounds of New South Wales and South Australia.
The Brisbane Test was due to be the first of four between Australia and India and will be followed by a one-day international tri-series also involving England.
An announcement on when it will be played is yet to be made, with ticket sales suspended.
"We appreciate the incredible understanding and support of the Board of Control for Cricket in India. It has been nothing short of outstanding during these difficult times," added Sutherland.
"We fully acknowledge the many groups who want to know when the Test will take place, particularly cricket fans in Queensland, Queensland Cricket and Stadiums Queensland.
"We hope to resolve all matters in the next few days."
The India team will travel to Brisbane on Monday as originally planned, but some players and staff will attend the funeral.
Australia captain Michael Clarke said on Friday that Hughes's number 64 one-day international shirt will be retired.
A meeting will be held early next week to discuss arrangements for the next round of the Sheffield Shield which is due to start on Friday.