Phillip Hughes: Cricket Australia says safety a priority
Last updated on .From the section Cricket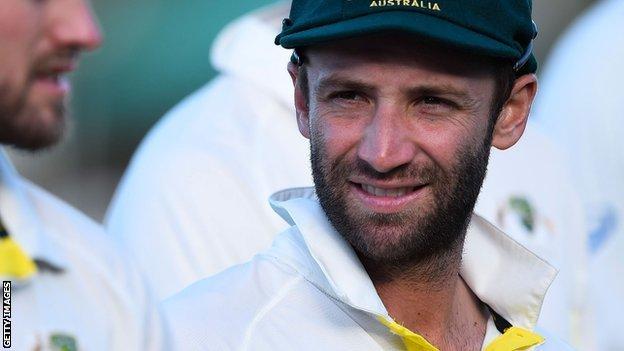 Cricket Australia will conduct an immediate investigation into player safety after Phillip Hughes's death.
The 25-year-old died on Thursday - two days after being struck on the neck by a short-pitched delivery during a domestic match in Australia.
"It's a freak incident, but one freak incident is one too many," said Cricket Australia's chief James Sutherland.
A State Memorial Service for Hughes will be held at Sydney Cricket Ground but a date has yet to be announced.
Meanwhile, a decision has not been made as to whether next week's first Test against India in Brisbane will go ahead.
Sutherland said: "We will immediately, in consultation with the manufacturers and the other safety providers or regulators, look into it to make sure that these things are addressed and improved.
"It's a matter of interest, not just for us here in Australia but for cricketers all over the world."
Tom Fordyce asks 'why does a death in sport hit us so hard?'
'Weeping Australia mourns the death of Hughes'
Former England captain Nasser Hussain said: "Putting bits on the neck is an area we've never thought about. The instinct to get out of the way of a bouncer is to turn away - this will send shock waves through every cricketer."
Phillip Hughes (1988-2014)
Phillip Hughes, batting for South Australia, was hit on the neck by a short-pitched ball on Tuesday. He never regained consciousness.
Australian team doctor Peter Brukner explained Hughes died as a result of "vertebral artery dissection".
His family paid tribute to a "much-loved son and brother".
Emotional Australia captain Michael Clarke stayed with Hughes's family at his bedside for two days.
Australia rugby union team set to wear black armbands against England at Twickenham on Saturday.
A State Memorial Service for Hughes will be held at Sydney Cricket Ground. A date has yet to be announced.
Prime Minister Tony Abbott described Hughes' death as a "shocking aberration".
On whether it is time to address the use of the bouncer, former England captain Michael Vaughan told BBC Radio 5 live: "Should the bouncer be banned from cricket? No chance. The day someone says the bouncer has to stop is the day that anyone can play.
"This is a freak accident and if bouncers are outlawed then it will be the end of Test match cricket. The aggressive nature of Test match cricket has to carry on."
Former Australian fast bowler Jason Gillespie added: "The bouncer will continue - it is part of cricket. I can't see a rule change about bowling short balls."
Lancashire cricket director Ashley Giles told BBC Radio 5 Live's Friday Sports Panel that he has just ordered new helmets for some of his squad.
"What we should do is of course look carefully at the safety standards of the sport again," Giles said. "It gives you a wake-up call, in your own side. Where are we with helmets? They've all got helmets but have they got the up-to-date, the best which could make the difference? We put in an order."
Meanwhile, tributes continue with chief executive Keith Bradshaw saying South Australia are "devastated" and "shattered" at the death of their "popular" team-mate Hughes.
"Phillip was a very popular and loved member of the team," said Bradshaw. "They are trying as best as they can to come to terms with this tragic loss.
"I think it's been very important that we've tried to keep the team together as much as possible so they can support one another in their out-flowing of grief."
On Thursday, play was abandoned on day two of the third Test between Pakistan and New Zealand, with players observing a minutes silence and wore black armbands in tribute when play resumed on Friday.
England's Rugby Football Union has also announced there will be a minute's applause ahead of Saturday's Test match between England and Australia at Twickenham. The Australian team will also wear black arm bands.